Three female deputies to the 13th National People's Congress (NPC) from southwest China's Guizhou Province recently submitted a proposal to harness the potential of minority culture to boost local industry, during the annual "Two Sessions" meetings.
Here are the stories of these three women who have all strived to develop their own handicrafts businesses and improve the lives of countless individuals.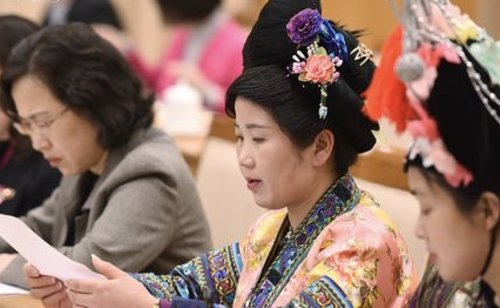 Wei Zuying [Xinhua]
Wei Zuying: Specialized Cooperatives Make Embroidery Benefit More People
Wei Zuying, a grassroots female deputy to the NPC from Ma'an village, is a national intangible cultural heritage inheritor of Miao embroidery.
Wei started to learn Miao embroidery at a young age and became well-known as a "skilled hand" at 16.
She followed some female villagers to south China's Guangdong Province and successfully found a job in an embroidery factory by virtue of her exquisite skills.
"At the factory, I discovered that there is a huge potential market for embroidery. Many women like me in my hometown can embroider but have to work outside their village to earn a living. Therefore, I was always considering returning home and starting a business to help local women increase incomes," said Wei.
Wei, together with her husband Chen Guo, went back to her hometown after staying in Guangdong for 10 years. They invested 200,000 yuan (U.S.$ 31,596) to establish a Miao embroidery factory, whose annual output reached nearly 1 million yuan (U.S.$ 157,978) in 2017.
Wei also helped to establish three large embroidery factories, 28 home workshops, 32 shops and a professional embroidery design office.
Song Shuixian [People's Daily]
Song Shuixian: Better Inherit Horsetail-Embroidery
Song Shuixian, an NPC deputy and a national intangible cultural heritage inheritor of horsetail- embroidery from Minzu village in Guizhou, is trying to carry forward and further develop the traditional handicraft.
Horsetail embroidery is unique and well-known. It is hailed as a living fossil of Chinese embroidery. Characterized by its unique materials and complex process with a long history, it was among the first group of items that were listed as national-level intangible cultural heritages in 2006.
In the late 1990s, many traders went to Sandu autonomous county and bought up the old embroideries. Song was worried that locals would have no fine examples to inherit or study, so she started to collect the most beautiful embroideries with her small salary, even in the most difficult period.
Song was also the first to commercialize the horsetail- embroidery. She set up Shuixian Horsetail Embroidery Company in 2012 in cooperation with local female embroiderers.
"Only by industrializing traditional crafts can we better inherit horsetail embroidery and help to increase impoverished women's incomes," said Song.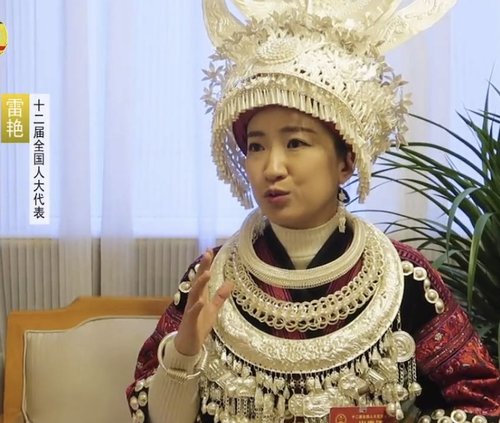 Lei Yan [Guizhou Goverment Network]
Lei Yan: Include 3,000 Women Embroiders into Anti-Poverty Campaign
Lei Yan, an NPC deputy and vice director of Guizhou Song and Dance Theater, recently showed journalists a knitted hair clasp, a double-sided embroidery and other cultural products.
"These are creative ethnic articles co-produced with a local anti-poverty enterprise named Wushuiyuntai, which sell well in both domestic and overseas markets," said Lei.
Long Luying, CEO of Wushuiyuntai, created a brand called Butterfly Mom to produce necklaces, scarves, shawls, wall-embroidered pieces, folk paintings and other handmade ethnic Miao cultural products.
Lei also devotes herself to promoting the Butterfly Mom brand and hopes to help more local women shake off poverty.
"I came to Beijing bringing the hopes of 3,000 female embroidery workers. This double-sided embroidered piece shows local women's living conditions and their best wishes for a better tomorrow," said Lei.
(Source: China Economic Net/Translated and edited by Women of China)