Song (C) introduces an article in a donated schoolbag. [Women Voice]
Song Xiuyan, vice-president and first member of the Secretariat of the All-China Women's Federation (ACWF), recently led a team of officials to visit impoverished children in southwest China's Guizhou Province shortly before the International Children's Day.
Song, also director-general of the China Children and Teenagers' Foundation (CCTF), extended her International Children's Day (June 1) greetings to students at the primary school in Longshan Township in the province's Majiang County.
During her visit, Song and other officials distributed schoolbags filled with stationery and sports items among 55 poverty-stricken students.
In addition, she donated money and materials worth over 2 million yuan (U.S.$ 294,399) in total to the province on behalf of the ACWF and the CCTF to help promote the implementation of children's charity projects there.
These projects include the Children's Happy Home centers program set up for rural children left behind by their migrant parents, the Children's Safety Experience Rooms, the Spring Bud Plan Education Assistance Program and the HELLO Kids Initiative that offers daily necessities and learning supplies.
Longshan Primary School is a boarding institution located in a mountainous village. One third of its 428 students have been left in the rural region by their parents who went to seek jobs in other cities.
When Song visited a second grade classroom, children were engaged in their class assignments. She greeted them and looked carefully at their exercise books, even fixing some of the curled pages.
She asked them about their study and life, and encouraged them to cherish their time at school, work hard and become an independent student to contribute their own strength with the knowledge they have learned to the development of their country and hometown.
After leaving the class, Song went to the playground where children were playing sports.
She inquired about their age, and asked if they stay in residence at the school and if the food there is good. They surrounded her, and answered her questions in a loud voice one after another.
Song told students that they should not only learn knowledge well but develop good health through physical exercise and "cultivate civilized spirits to achieve all-round development."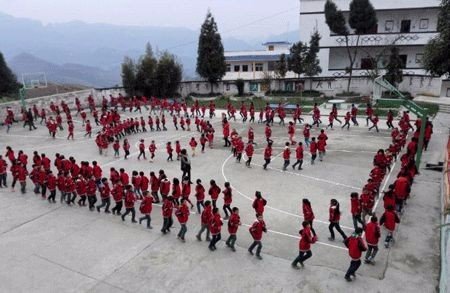 Children carry out exercise in the playground. [Women Voice]
ACWF officials, teachers and students at the school [Women Voice]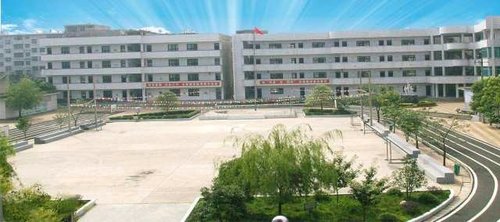 A glimpse of the school [Women Voice]
(Source: Women Voice/Translated and edited by Women of China)