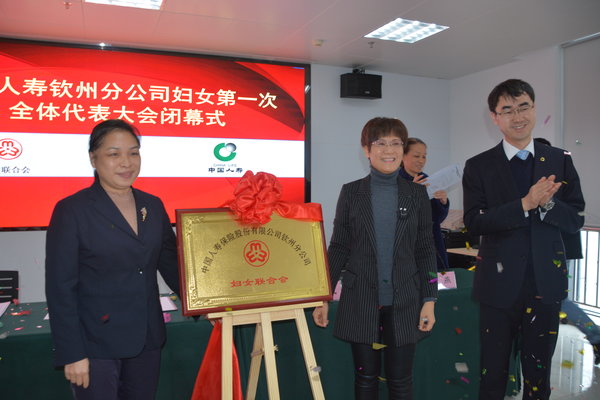 The women's federation of the Qinzhou branch of China Life is established. [Qinzhou Women's Federation]
Officials in Qinzhou, southwest China's Guangxi Zhuang Autonomous Region, recently established the first women's federation to be based in the local office of a leading insurance firm.
The Women's Federation of the Qinzhou Branch of China Life Insurance Co. is an important achievement in the women's federation reform, said a spokesperson.
The first women's congress of the new federation was held on December 20. It was attended by Huang Dongfeng, vice-president of Qinzhou Women's Federation; Wang Xuedong, Party secretary of China Life Qinzhou Branch; and, other female representatives.
During the event, members of the federation's executive committee were elected.
Wang expressed congratulations to the congress, and gave a talk on how to lead female employees to develop in their positions.
First, the women's federation should lead the majority of women to stick to the leadership of the Communist Party of China. Second, female employees should strive to forge ahead and develop business in terms of service and sales innovation. Third, the federation should promote the work of female employees with humanistic care to support their aspiration for a better life.
In her talk, Huang promoted the study of the address made by Xi Jinping at the gathering in commemoration of the 40th anniversary of reform and opening-up and the spirit of the 12th National Women's Congress and spoke about her own hopes for the company's federation and female employees.
First, Party building should lead the development of women's federation. The development of women's federations should serve the Party building. Officials should always maintain and enhance political consciousness, become more advanced and better represent the people.
Second, the women's federation should continuously deepen the work related to the national breast and cervical cancer screening program, provide health protection for women and help them shake off poverty.
Third, the federation should solve practical problems for women and safeguard their rights and interests. It should also carry out in-depth family civilization and corporate culture construction; guide women to further family education; and, improve women's sense of fulfillment, happiness and security.
The first women's congress of China Life Qinzhou branch is held. [Qinzhou Women's Federation]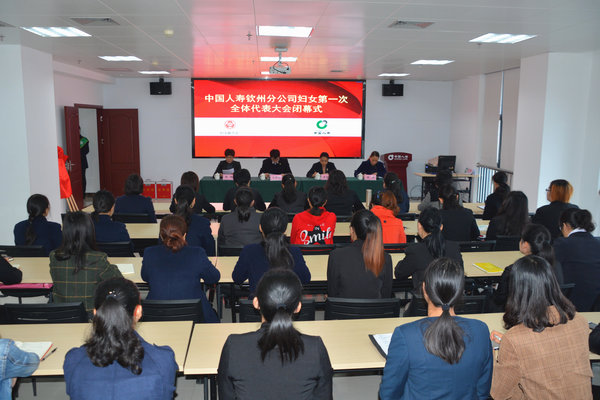 Attendees at the closing ceremony of the first women's congress of China Life Qinzhou Branch [Qinzhou Women's Federation]