A photo taken on February 28 shows attendees at the second session of the 13th executive conference of Guangxi Women's Federation. [Guangxi Women's Federation/Lei Xinrong]
Guangxi Women's Federation held the second session of its 13th executive conference in Nanning, capital city of southwest China's Guangxi Zhuang Autonomous Region, on February 28.
The gathering aimed to comprehensively implement the work spirit underscored at the 18th National Congress of the Communist Party of China (CPC) and at the 3rd, 4th, 5th, and 6th plenary sessions of the 18th CPC Central Committee; and at both national and provincial conferences on improving mass organizations' operations.
In addition, it was also designed to push forward the instructions and principal concepts, thoughts and strategies in governance proposed by Chinese President Xi Jinping, also general secretary of the CPC Central Committee, and the main points of the sixth Plenary Session of the 11th Executive Committee of the All-China Women's Federation (ACWF). It also intends to summarize work carried out in 2016, make an arrangement of its tasks this year; and select new members of the federation's 13th executive conference.
President of Guangxi Women's Federation Wang Gebing gave a work report about the mass organization's achievements in 2016 and key tasks in 2017. In her speech, she urged local women's federations to stick to their posts and make innovations in their normal work. She also encouraged them to continually drive on women's spiritual education, the protection of women and children's rights and interests, the construction of model families with civility and encouraging women to make better performances in their daily work, and make full preparations for the upcoming 19th CPC National Conference.
After that, the meeting also agreed to include Bai Chunqiu and Zhao Diqiong as new deputies in the 13th executive conference of Guangxi Women's Federation.
Those present at the conference were Hou Jianguo, vice-secretary of Guangxi Zhuang Autonomous Regional Committee of the CPC; other senior officials of Guangxi Women's Federation; Zhou Yaxian, chairperson of Guangxi Female Entrepreneurs Association; and heads of local women's federations.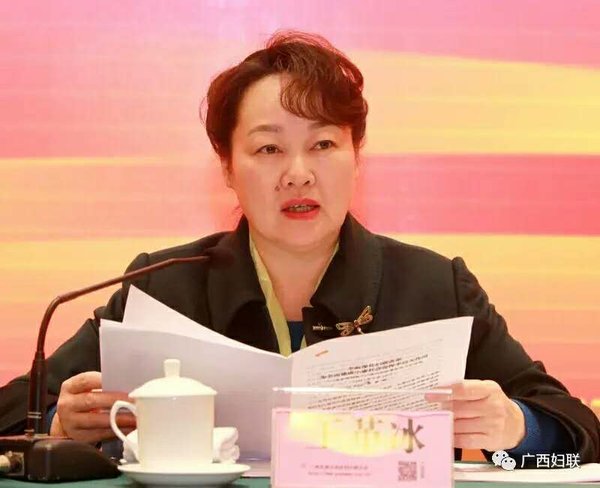 President of Guangxi Women's Federation Wang Gebing gives a work report at the meeting. [Guangxi Women's Federation/Lei Xinrong]
Hou Jianguo, vice-secretary of Guangxi Zhuang Autonomous Regional Committee of the CPC, delivers a speech at the meeting. [Guangxi Women's Federation/Lei Xinrong]
A photo taken on February 28 shows attendees at the meeting. [Guangxi Women's Federation/Lei Xinrong]
A photo taken on February 28 shows attendees at the meeting. [Guangxi Women's Federation/Lei Xinrong]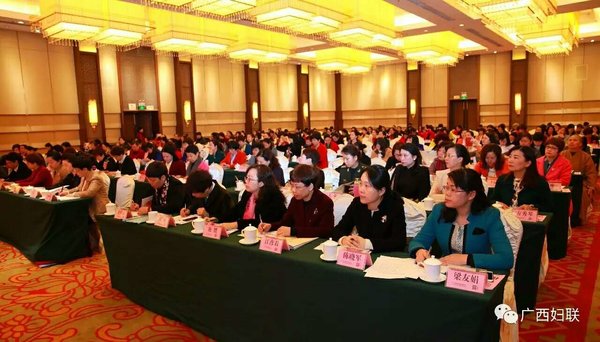 A photo taken on February 28 shows attendees at the meeting. [Guangxi Women's Federation/Lei Xinrong]
(Provided by Guangxi Women's Federation)