Attending officials at the press conference [Guangxi Women's Federation/ Lei Xinrong]
Members of an anti-domestic violence league in south China's Guangxi Zhuang Autonomous Region held a press conference in Nanning, capital of the autonomous region, on March 1 to celebrate the official execution of China's first law on domestic violence. Under the new law, domestic violence is no longer considered a "family matter" but a legal issue that demands action from the courts and the police.
At the news conference, the head of the league Wang Gebing, deputy director of the Guangxi Working Committee on Children and Women and President of Guangxi Women's Federation, noted that the organization had played a leading role in the prevention and deterrence of domestic violence, promotion of family harmony and the maintenance of social stability.
Members of the league are expected to integrate anti-domestic violence into their normal work. "Members should make a joint effort to increase the popularity of the recently executed anti-domestic law amongst the public, carry out intensive studies, and give effective solutions to specific cases," She said at the event.
For instance, local departments of public security should also allocate time and resources to deal with domestic violence cases, while civil affairs bureaus are expected to open shelters for victims of domestic violence and provide them with necessary assistance in the face of crisis.
To further raise the public's awareness of domestic violence, associated departments have also held various events to bring attention to this issue on International Women's Day (March 8), International Day to Eliminate Violence against Women (November 25), National Constitution Day (December 4), and other special occasions, along with establishing professional centers for affected women and children in which physical assistance and psychological counseling are provided over several years.
Members of the league include the Guangxi Higher People's Court, Guangxi People's Procuratorate, Guangxi Department of Public Security, Guangxi Department of Justice, Guangxi Department of Civil Affairs, Guangxi Department of Education, Guangxi Commission of Health and Family Planning, Guangxi Administration of Press, Publication, Radio, Film and Television, Guangxi Federation of Trade Unions, Guangxi Committee of the Communist Youth League, Guangxi Women's Federation and Guangxi Disabled Persons' Federation.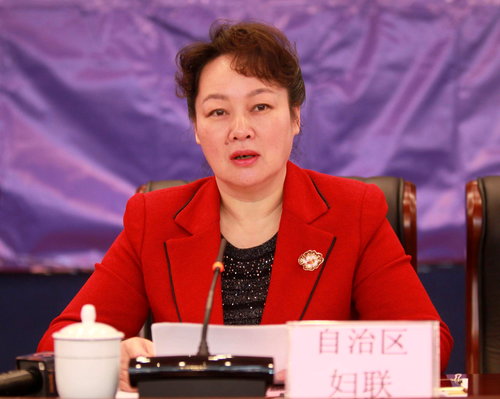 President of Guangxi Women's Federation Wang Gebing gives a speech at the press conference. [Guangxi Women's Federation/ Lei Xinrong]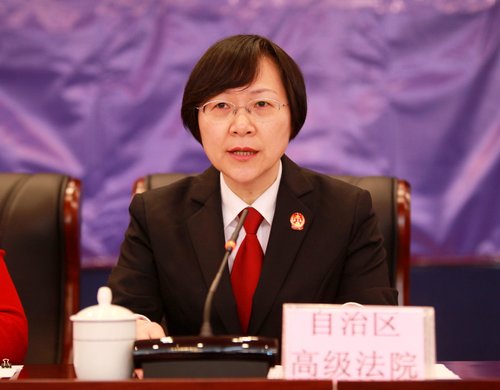 An official from Guangxi Higher People's Court delivers a speech at the press conference. [Guangxi Women's Federation/ Lei Xinrong]
(Provided by Guangxi Women's Federation/Tan Yihui)