A photo taken on November 19 shows attendees at the training session's opening ceremony. [Guangxi Women's Federation/Lei Xinrong]
Guangxi Women's Federation sponsored a training session in Nanning, capital city of south China's Guangxi Zhuang Autonomous Region, on November 19-20 to enhance the competencies of staff members from local women's federations in charge of online publicity and the capability of practitioners from women's organizations and media in their daily work.
It drew the attendance of 170 officials from women's federations, and employees from women-oriented social organizations and media across the entire region.
At the training session's opening ceremony on November 19, President of Guangxi Women's Federation Wang Gebing emphasized that participants should have a clear understanding of the importance of the work on online publicity related to women's affairs and briefed them about Chinese President Xi Jinping's key instructions regarding local women's federations' efforts to help the public via online channels from a conference on improving the operation of mass organizations held in Beijing on July 5.
She made an analysis of the latest developments from the work on online publicity, gave high praise to local women's federations for their efforts to promote online publicity, and noted that they should be clear on the existing difficulties and hurdles detrimental to the further improvement of their work on online publicity.
In addition, Wang called on local women's federations to prioritize their work on online publicity, build professional platforms, organize more talented women to devote themselves to online publicity, and make an intensive emergency plan against the occurrence of discontent sentiments on the internet.
Meanwhile, Vice-President and Member of the Secretariat of Guangxi Women's Federation Wu Yanjuan, who presided over the opening ceremony, instructed local women's federations to further improve their platforms focused on online publicity, organize more competent staff members to undertake this task, launch their campaign to look for model families, promote the popularity of gender equality amongst the public, and select winners for the 'March 8th Red-Banner Pacesetters'.
For their part, several invited experts gave talks on how attendees could better perform their daily work in connection with online publicity when faced with increasingly new and different social conditions.
The Publicity Department of the All-China Women's Federation (ACWF) also sent its lecture 'Going against Difficulties---the ACWF's Plan for and Action on the Internet and New Media' to the training session, in which staff members from the ACWF made an analysis of common problems related to online publicity and introduced applicable measures to improve the work.
To date the autonomous region has set up three online platforms and two WeChat accounts, including a mobile text and voice messaging communication service developed by Tencent in China at a provincial level and more similar channels at a municipal level. With the aim of advancing the work on online publicity, they have all become hugely popular amongst the public.
President of Guangxi Women's Federation Wang Gebing delivers her speech at the training session's opening ceremony. [Guangxi Women's Federation/Lei Xinrong]
A photo taken on November 19 shows attendees at the training session's opening ceremony. [Guangxi Women's Federation/Lei Xinrong]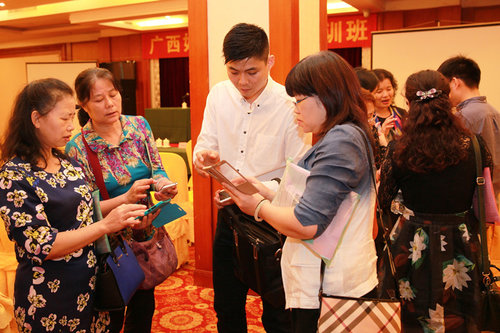 Several participants hold interactions about how to use the newly established WeChat accounts related to the work on online publicity of women's affairs. [Guangxi Women's Federation/Lei Xinrong]
(Provided by Guangxi Women's Federation)