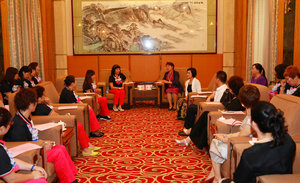 President of the Guangxi Women's Federation Wang Gebing (R) holds a meeting with Zhong Shu-yue (L), director-general of Hualien County Committee on Women's Affairs, and other members of the visiting delegation in Nanning, capital city of south China's Guangxi Zhuang Autonomous Region, on September 18. [Guangxi Women's Federation]
A 36-member delegation of women from Hualien County, southeast China's Taiwan, spoke with officials from Guangxi Women's Federation during their tour to Nanning, Guilin, Liuzhou and other cities in south China's Guangxi Zhuang Autonomous Region on September 13-20.
The two groups talked about their cooperation for the further promotion of women's affairs across the Taiwan Strait, visited local women-oriented enterprises and firms that have seen investments by Taiwanese businesses, and learned about the latest developments in social and economic affairs on the Chinese Mainland.
The Taiwanese women's delegation was headed by Director-General of Hualien County Committee on Women's Affairs Zhong Shu-yue, who is also wife of Lai Ching-kun, speaker of Hualien County Council.
During their seven-day visit, members of the delegation toured local scenic spots, museums, domestic services enterprises, and held close talks with local women about their daily lives. This activity helped them learn more about local residents' social and economic affairs and further consolidated their emotional ties with their peers from Mainland China.
On September 18, President of the Guangxi Women's Federation Wang Gebing met with the delegation in Nanning and introduced them to the organization's consistent efforts to help local women across the entire autonomous region in their personal lives and employment. Meanwhile, Zhong said that the delegation would bring with them positive experiences gained by the federation in the development of women's affairs to Hualien, increase social influence of her committee in the county, and make joint efforts with their counterparts from the Mainland in the promotion of women's issues across the Straits.
On the same day, Guangxi Women's Federation organized a group of local businesswomen to hold talks with the visitors about their entrepreneurial experiences. Members of the Taiwanese delegation said that they were greatly inspired by the personal stories of their peers from Guangxi in the management of their business affairs and encouraged by the multiple means of assistance made by the federation to help local women better run their enterprises.
It is the sixth consecutive year, since 2010, that women's delegations from Hualien have held similar exchange activities with Guangxi Women's Federation.
President of the Guangxi Women's Federation Wang Gebing (R) exchanges gifts with Zhong Shu-yue (L), director-general of Hualien County Committee on Women's Affairs, at a meeting held in Nanning, capital city of south China's Guangxi Zhuang Autonomous Region, on September 18. [Guangxi Women's Federation]
Members of the Taiwanese women's delegation visit a training center for female practitioners in relation to domestic service during their visit in south China's Guangxi Zhuang Autonomous Region on September 13-20. [Guangxi Women's Federation]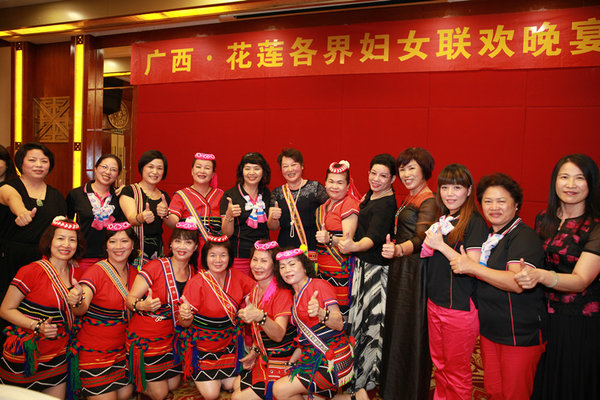 Officials from Guangxi Women's Federation pose for a group photo with the visiting delegation. [Guangxi Women's Federation]
(Provided by the Guangxi Women's Federation)