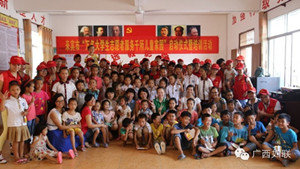 Laibin City launches 'University Students' Volunteer Service for 1,000 Children's Homes'. [Guangxi Women's Federation]
The Women's Federation in south China's Guangxi Zhuang Autonomous Region has undertaken a raft of measures to promote the healthy development of rural "left-behind" children, drawing upon its vast grassroots network and closeness to women and children.
Left-behind refers to those children in China who live in their hometowns unsupervised, or are looked after by family friends or relatives, as their parents move to the cities to look for better paid jobs.
Promoting Policy-Making
Over the years, the federation has carried out a series of investigations on left-behind children as well as research on sexual assault on girls. Based on the investigations, they have submitted reports to the local Party committee and government.
Thanks to their suggestions, the local government has issued the Guideline on Further Strengthening the Work in Caring For and Protecting Left-behind Children in Rural Areas and the Guideline on Further Strengthening the Work in the Protection of Girls' Physical and Psychological Health.
It also included its suggestion of setting up "Children's Homes" and "Women's Homes" centers as a priority in the work done to help migrant workers.
Boosting the Development of Children's Homes
In order to address the problems of the after-school care, protection, education and entertainment of left-behind children, the federation has worked with local governments of various levels to build "Children's Homes."
To date, it has raised over 80 million yuan (U.S. $13 million) for the establishment of 2,642 such centers. Currently, many city and county governments have identified "Children's Homes" to be part of their main projects on improving people's livelihood.
Of these, some 231 organizations directly under the administration of the autonomous regional government have established "Children's Homes" in the villages where they are located, sometimes more than one, and some 2 million yuan (U.S. $328,000) has been donated by the All-China Women's Federation (ACWF) and the China Children and Teenagers' Foundation (CCTF).
Meanwhile, women's federations at various levels have paid great attention to the institutional development of "Children's Homes." They give trainings to directors, and carry out a variety of activities including accompanying the children, granting relief, popularizing legal knowledge and conducting safety education.
Such efforts have turned "Children's Homes" into happy, family bases for left-behind kids and an effective platform for people from all walks of life to provide services and care.
Reaching Out to Families in Rural Areas
In the past six consecutive years, the federation, in joint efforts with related local authorities, has visited communities in the countryside to give lectures to the guardians of left-behind children on family education.
It has issued more than 300,000 pamphlets on the safety, protection and family education of left-behind children.
Women's federations at various levels have established the Center for Family Education Guidance and the Panel of Lecturers on Family Educations, among others, to give regular lectures.
Piloting Services for Left-behind Children
Due to the productive work of the federation, the ACWF has designated Xingbin District in the autonomous region's city of Laibin as one of the 11 new areas in the country piloting the care and service system for left-behind children in rural areas.
Under the guidance of the ACWF, Xingbin District has established 259 schools for parents and guardians of left-behind children, with one in every village or community and a total of 1,066 part-time and full-time staff including teachers working for such schools.
The district has also opened psychological health classes, psychological counseling rooms and mailboxes in primary and middle schools.
It has opened 450 Family Hotlines and 435 Teacher Hotlines and installed 1,0624 computers for video calls.
The local financial department of Xingbin District has pledged to allocate no less than 60,000 yuan (U.S. $9,700) annually to the work on left-behind children, while the township or neighborhood has promised an annual 10,000 yuan (U.S. $1,600).
The effective coordination between the local-government, women's federation, related departments and the public has laid a solid foundation for future work and offers references for other areas in their work on left-behind children.
Next Step
Guangxi Women's Federation will continue to promote work on left-behind children, with "Children's Homes" as a key focus. It will also make greater efforts to popularize knowledge among parents and guardians of the children and mobilize people from all walks of life to participate on the project in caring for left-behind kids on a regular basis.
Meanwhile, it will give full play to the role of women in the industrialization of rural areas. By way of training on entrepreneurship, granting them loans and supporting them in the weaving industry, household services and specialty farming. It is expected that through the scheme more women can work near home, reducing the number of left-behind children.
Organizers from the charity initiative 'Loving Mothers' in Guilin, southwest China's Guangxi Zhuang Autonomous Region, visits a children's welfare house. [Guangxi Women's Federation]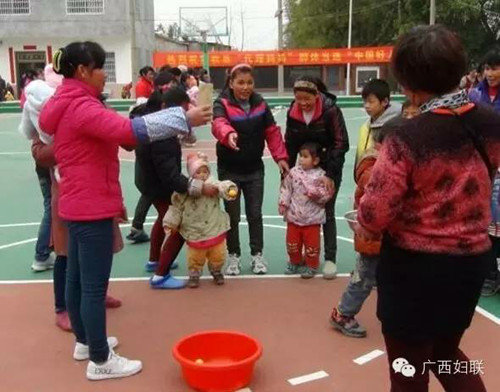 Organizers from the charity initiative 'Surrogate Mothers' of Bingyang County visit left-behind children in Yucai Village in Zhonghua Township. [Guangxi Women's Federation]
Lan Shaohui, winner of the 'Most Beautiful Family' award from the ACWF, visits a 'Children's Home' in Laibin City. [Guangxi Women's Federation]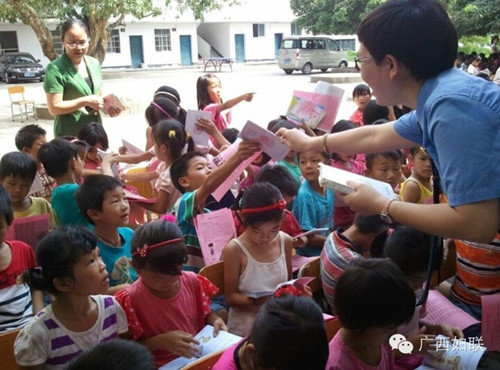 Staff of the women's federation in Qinzhou issue pamphlets on protection of children to kids. [Guangxi Women's Federation]
(Provided by Guangxi Women's Federation/Translated and edited by Women of China)