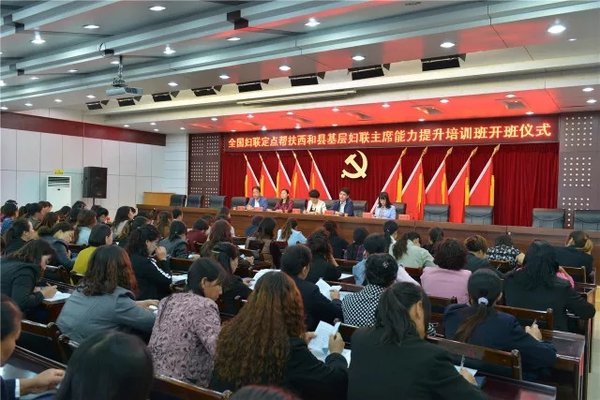 The ACWF launches a training session for grassroots women's federation presidents to improve their work capabilities. [Women Voice]
The All-China Women's Federation (ACWF) has played a key role in offering direct assistance to Zhangxian County and Xihe County, both in northwest China's Gansu Province, where poverty-alleviation initiatives have advanced local development.
Recently, officials from grassroots women's federations and the assistance team of the ACWF held a meeting to mark International Day for Poverty Eradication (October 17) and review their achievements from the past year.
Authorities in Zhangxian and Xihe have attached great importance to grassroots reform among women's federations under the guidance of the ACWF, and have taken the lead across the province, said an official.
The ACWF instructed the two counties to implement federation reform and organized over 7,000 local grassroots officials to carry out targeted poverty-relief initiatives.
Nowadays, the assistance teams have promoted China's two major e-commerce platforms Alibaba and Jingdong in setting up Cloud Customer Service platforms in the counties.
The teams also coordinated with local enterprises to launch craft-making training sessions among a total of 1,086 poverty-stricken women, thus increasing their incomes.
Zhangxian County
The ACWF has been offering direct assistance to Zhangxian since 1998, during which time the organization has assigned 18 teams consisting of 68 officials to aid local grassroots federations.
Statistics indicate the team has contributed to over 70 projects which have brought investment worth about 2.26 billion yuan (U.S.$ 340 million), aimed at promoting development of local women and children's projects.
In Zhangxian, grassroots women's federations had by April completed reform among 13 towns, 135 administrative villages and another five community organizations.
Statistics indicate the county now has 153 newly-formed women's federations and increased the number of officials up to 2,632.
Meanwhile, reform has centered on the principle of the so-called "Seven 100 Percents."
According to the principle, the town-level Party and government leadership should include all federation presidents; village-level leadership should include female officials; a work scheme should be established to ensure grassroots officials' salaries; Women's Home activity centers should be built among all 135 villages; and, each village woman should be allocated a working fund of 1 yuan (U.S. 0.15) on average.
Reform changes have also taken place in the organizational structure and work model, improving the federations' composition of officials, workplaces and funds at the grassroots level.
The reform initiatives serve as a solid organizational structure in order to advance the progress of women's poverty alleviation activities, commented an official.
As a representative of the newly-elected president at a village-level women's federation, Yang Wenmei believed "my successful election is an affirmation and honor and I will make every effort to help female villagers to shake off poverty."
Xihe County
In Xihe, grassroots organizations had completed their reform by June. The assistance team from the ACWF promoted policies of targeted poverty alleviation and those in relevance to agriculture, farming and rural villages.
The ACWF team also instructed local organizations to launch a series of training sessions which aimed at improving work capabilities among grassroots officials, assisting poverty-stricken women through developing e-commerce businesses, and promoting women's handicrafts.
The team also urged grassroots federations to establish a new work mechanism in connecting women and executive committee members of local women's federations.
"It is the assistance relay team from the ACWF that gives me courage and confidence in developing my breeding business," said Zhang Rui'e, a local female villager who has benefited from the poverty-alleviation initiatives of the ACWF.
Many senior officials from the ACWF, for example, Song Xiuyan, vice-president and first member of the Secretariat of the ACWF, have conducted inspection tours in Xihe since 2015, when the county was designated a targeted county with the ACWF.
The ACWF has so far raised funds worth 6.4 million yuan (U.S.$ 964,000) for the county; donated instruments for medical check-ups worth over 4 million yuan (U.S.$ 602,000); covered health insurance for breast and cervical cancers among women worth 440,000 yuan (U.S.$ 66,262); established eight poverty-alleviation pilot bases; and, launched five training sessions involving 470 officials.
Officials also paid a visit to the household of Yue Lugui, who expressed his gratitude toward the organization in offering constant support and encouragement to his adult child who is studying at college.
Participants at a meeting promoting women's poverty-relief initiatives in Xihe [Women Voice]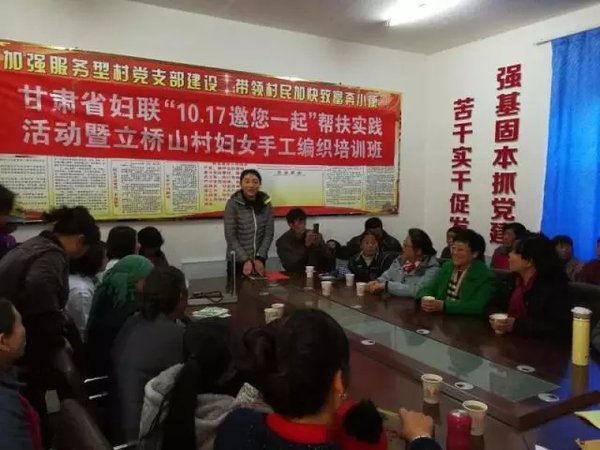 Women attend a skill training to mark International Day for Poverty Eradication. [Women Voice]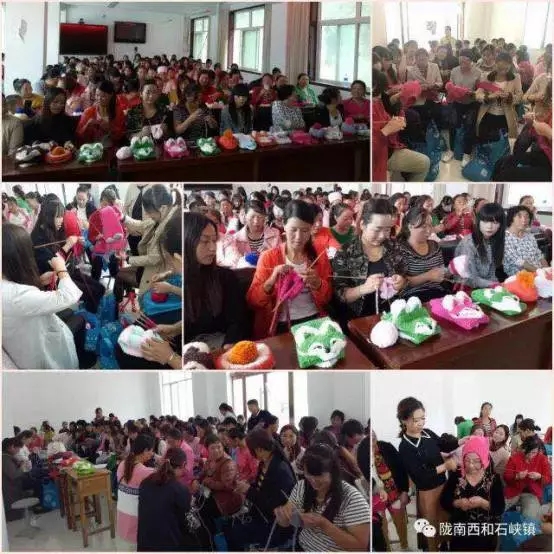 Women learn craft making skills together. [Shixia Town of Xihe County on WeChat]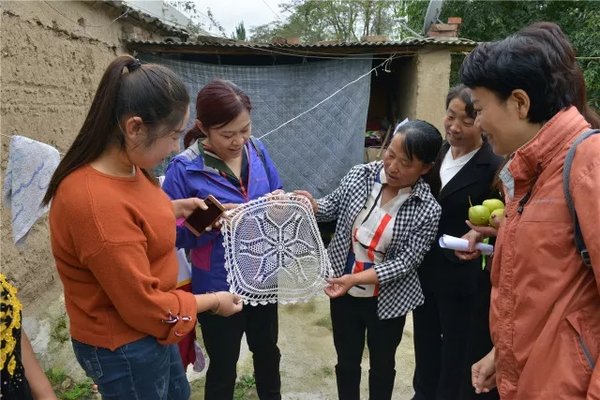 Women display their embroidery products. [Women Voice]
Women learn to make slippers. [Women Voice]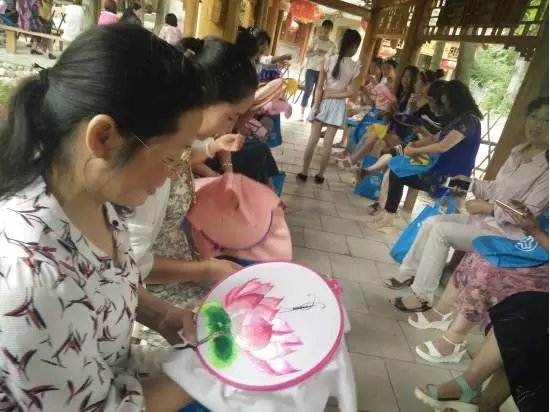 Women work on embroideries. [Women Voice]
(Source: Women Voice/Translated and edited by Women of China)