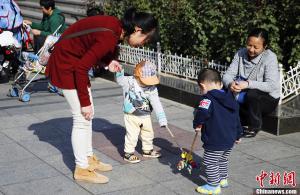 China allows more couples to have second children if either parent is an only child. [Chinanews.com]
China announced its decision to loosen its decades-long population policy advocating one child for one family, allowing couples to have two children if one of them is an only child on November 15, 2013.
China will implement this new policy while adhering to the basic state policy of family planning, according to the decision on major issues concerning comprehensively deepening reforms approved at the Third Plenary Session of the 18th CPC Central Committee held from November 9 to 12 in Beijing, which has mapped out the blueprint for China's development in the next five years.
The birth policy will be adjusted and improved step by step to promote "long-term balanced development of the population in China," the decision said.
The current population policy was introduced in the late 1970s to rein in the surging population by limiting most urban couples to one child. Under current rules, urban couples are permitted a second child if both parents do not have siblings and rural couples are allowed to have two children if their first-born is a girl.
The latest change comes as China's rapidly ageing population, labor shortages, and gender imbalance pose great challenges to society as a whole.
Balanced Population Development Consideration

With the family planning policy advocating one-child family, authorities believed they had set the stage for an economic boom and social advancement, and there is no doubt that the policy has been very effective in that respect.

The falling birthrate which resulted, however, has thrown the growth of the aging population into sharp focus and led to shrinkage of the working-age population.

China's sixth national census in 2010 showed a fertility rate between 1.5 and 1.6, almost the same as some developed countries which are now plagued by aging populations.

Statistics from the National Health and Family Planning Commission (NHFPC) contend that China's population (1.34 billion) would be 400 million higher were it not for the policy.

"Both higher and lower fertility rates could hinder balanced development between population and the social economy," said Guo Zhenwei, a family planning official with the NHFPC.

China's peak population should be about 1.5 billion with a birthrate around 1.8. In addition, the labor force (940 million) decreased by 3.45 million in 2012, the first absolute decrease, and is expected to decrease by about 29 million by the end of the decade.

The elderly population meanwhile, keeps on growing with those aged 60 and over numbering nearly 200 million, 14.3 percent of the total, far ahead of the international norm of 10 percent. The figure is forecast to exceed one third of the population by 2050.

"Loosening of the family planning policy will slow the aging phenomenon and relieve pressure on pensions," added Li Jianmin, a demographer with the Nankai University based in north China's Tianjin Municipality.
Gender imbalance is another side effect of the family planning policy. Chinese parents' preference for sons led to the abortion of female foetuses due to the policy.
About 118 boys are born for every 100 girls in 2012, higher than the normal ratio of 103 to 107 boys for every 100 girls. Millions of Chinese men will be unable to find wives in 2030.
"The adjusted birth policy did not only meet many people's expectations, but is in line with a long-term balanced development of the population in China," said Zhang Yuanzhen, a professor at Henan Institute of Family Planning.
"It could be positive for structural population problems such as the aging problem, persistent imbalance of genders and decrease of working population," Zhang said.
Population Spike Concerns

Two days after the announcement, whether the changes will lead to a population spike has been a hot Internet topic, irrespective of family planning authorities' insistence that the change will put not much pressure on food supplies or public services.

An online survey by newsifeng.com showed more than 63 percent of respondents keen to have a second child, and about 30 percent saying no because of the high cost of raising a child.

Some 84 percent of the respondents said the change will have little influence on the total population, with only about 9 percent worried about a sudden increase. The survey had more than 190,000 respondents by the afternoon of November 17, 2013.

However, demographers argue that there is unlikely to be a population hike with the change of childbearing ideology and the increasing cost of raising a child. Chinese parents preferred to have many children in the past as they believed more offspring would bring more blessings and children were considered the best source of care for elders.

A survey by the NHFPC shows that some 15 million to 20 million people will benefit from the policy, but only about 50 to 60 percent of them are interested in having a second child.

"The policy change will not lead to population explosion: one or two children have met couples' fertility needs both in rural and urban areas," said Wu Cangping, an advisor with the China Population Association.

"The policy adjustment is not only to limit population growth, but also to propose a population development model which is commensurate with China's social and economic development," Wu added.
Foreign Media Reports
China's loosening of the population policy has also aroused worldwide attention. Newspapers around the world reported the news.
China is changing a decades-old policy restricting most families to one child. It's not compassion, but demographics that is driving the change, reported USA Today.
"It is a step forward to the extent that some people are getting the ability to have a second child," Senior Researcher at Human Rights Watch in Hong Kong Nicholas Bequelin told the Agence France Presse (AFP).
The shift may be too late to offset the damage already done to China's economy and society, the Time pointed out.
According to the Wall Street Journal, economists said anything that further increases China's population is likely to add to demand for U.S. farm goods.
"More children will mean more dairy products and as those children age, meat consumption will rise," said Dan Kowalski, an economist at Greenwood Village, Colo.-based CoBank, which provides loans, leases and export financing to agribusinesses.
(Source: Xinhua, USA Today, Agence France, Time and Wall Street Journal)