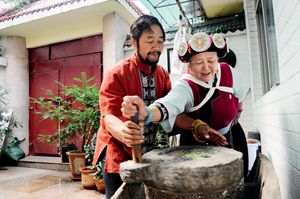 He Wenguang uses a mill with her wife. [Women of China English Monthly]
He Wenguang's family lives in Lijiang, a city in Southwest China's Yunnan Province. During the past 30 years, He, an inheritor of Naxi folk music, has been working tirelessly to save the ethnic group's folk music. He's son and daughter have traveled throughout China, and abroad, to sing Naxi folk songs. He's family was selected one of China's most beautiful families in May 2014.
Inheriting Naxi Culture
"On the foot of the lofty snow mountain is my hometown ... In the old yurt, buttered tea smells well ... That is where I grew up ... Multicolored prayer flags waved in the air ... My mother accompanied me to have a good time." Those lyrics, from the song My Hometown, were written by He Wenguang.
He, a native of Tacheng, a village in Lijiang, a city in Southwest China's Yunnan Province, is a musician, calligrapher of Dongba hieroglyphic writing (characters of the Naxi ethnic group) and one of the inheritors of Naxi music and Dongba culture (culture of the Naxi ethnic group). He is referred to as the "King of Naxi Songs" by most of the people who listen to his songs.
The village of Tacheng is an important stop along Ancient Tea House Road, which is a network of caravan paths that wind through the mountains of Sichuan, Yunnan and Guizhou provinces, all in Southwest China. The road is more than 1,000 years old. Tacheng is referred to as the "Hometown of Song and Dance" and the "Holy Land of Dongba Culture."
The Naxi people who live in Tacheng are able to perform the Leba Dance, which dates back more than 2,000 years. The Leba Dance is a dance to imitate the actions of beasts, such as lions, tigers, bears, leopards and kylin (mythical creature in Chinese mythology), when Naxi people celebrate festivals. He learned the Leba Dance, from elderly Naxi dancers, when he was 10. He can vividly imitate the movements of the beasts.
He began teaching at Tacheng Primary School in 1973, after he graduated from Lijiang Normal School. Almost daily, after classes ended, He traveled to nearby villages to collect folk songs. He also wrote songs. In 1982, He wrote several songs, including Younger Sister's Love Song and My Hometown, which caught the attention of teachers and students in his school. The songs he wrote were compiled into the school's music textbook.
After that, He devoted more time and energy to collecting Naxi folk songs and dances. He collected and sorted dozens of ancient Naxi songs, including Transplant Seedlings Song and Marry Daughter Off Song.
At that time, the Naxi people's ancient songs and dances were on the verge of being lost. There was a risk that the folk songs and dances would no longer be handed down if no one stepped up to protect and inherit them. In 1991, He established Tacheng Leba Art Troupe, and he served as head of the troupe. He and the troupe's members devoted themselves to collecting and saving the ancient songs and dances, and they performed those songs and dances in many cities in Yunnan and other provinces. At that time, few people realized the importance of protecting and inheriting traditional musical culture. As such, most people misunderstood He's work. However, he insisted on protecting ancient Naxi music, and he promoted Naxi music to more people.
In 1998, He was transferred to Lijiang Folk Song and Dance Troupe, and he served as the troupe's vice-president. The troupe offered a better work environment, so He had more time to write songs and protect Naxi folk music.
Family
"During the past 30 years, I encountered many difficulties and troubles as I tried to protect and inherit Naxi folk music. Many people did not understand or support me. However, I have always believed that all of the things that I have done will be accepted and understood by people," says He.
"My family members understand and support my work … Their support is my force … At that time, my wife did all the farm chores, and she looked after our children. My family lived on my slender income. I could only help my wife do the chores on Sundays or during festivals. I spent much more time collecting and sorting folk music. My wife did her best to support my work. She once sold our only cow, to raise money to help me save the folk culture," says He.
"If we do not have money, we can try to make money. However, if no one helps save traditional culture that is on the verge of being lost, the lost culture cannot be brought back, even if we spend much more money."
He has sorted many ancient Naxi songs, and he has written dozens of songs in the Naxi language. Those songs, which include Greet Guests Song, Toast Song and Shangri-La in a Dream, are now known among the Naxi people. He also organizes Leba Dance performances in communities inhabited by Naxi people.
"After having spent more than 30 years trying to protect and inherit Naxi culture, I have come to realize that if a person has a kind and loving heart, and if he/she insists on doing his/her work, he/she will achieve success. My greatest gain has not only been my success in saving and sorting ancient songs and dances, but my influence on my family members, who have joined me in my work." He says.
"Now, foreign cultures are influencing and impacting our traditional culture. However, my daughter and son chose to come back to Lijiang, to help me protect, inherit and promote Naxi culture and music, after they graduated from Minzu University of China in Beijing. I am proud of them."
Songs of Three Generations' Women
Xiao Rulian, 84, He's mother, is the family's second-generation inheritor of Naxi folk music. She is the only ethnic Naxi folk singer who can sing hundreds of traditional Naxi folk songs.
Naxi people adore their mothers; as a result, women play an important role in inheriting and sharing Naxi culture in their families. In He's family, a song, entitled Song of Three Generations' Women, describes how Naxi women comprehend their lives, and how they are confident they will live a good life.
Naxi women pass their virtues and family traditions on to the next generation by singing songs.
"There are several good women, my grandmother, my mother and my wife, in my family. They have taught me a lot, and they have much influence on me. So, I often write songs about women, such as Aleqiu (which means bright and capable Naxi women), to praise women, My Mother, to praise mother, and Naxi Love Song, to sing about true love between a man and a woman. Three great 'mothers' have had a great influence on me in my life. Without their support, I could not achieve success in my music career," says He.
"The first 'mother' is my grandmother. My parents sent me to her when I was 1. She brought me up, until I was 10. In those years, she told me many things about how to be a good person, and she told me many stories and legends about the Naxi ethnic group. She was my first teacher, who taught me about Naxi culture. Now, I can apply the Naxi culture to my songs, thanks to my grandmother," says He.
"The second 'mother' is Xiao Rulian, my mother. Xiao not only brought me up, but also taught me many ancient Naxi songs. I wrote the songs down, with numbered musical notations, as I wanted to protect the valuable treasures … for future generations," says He.
"The third 'mother' is He Guofang, my wife. She supports me … in protecting and inheriting Naxi culture. Also, she gave birth to and raised Dapo Abo, my son, and Dapo Maji, my daughter. My children are the fourth generation in our family to inherit the Naxi culture. They have become good singers, who promote Naxi music to people in China and abroad."
On the Road
In 2005, organizers asked He's family to perform the Leba Dance and Naxi folk songs in various venues around Arizona as part of the Arizona Asian Festival. Xiao, He Wenguang and Dapo Abo gave 16 performances in theaters, colleges and high and primary schools.
He's family remains the only family from China to so perform in the United States. Many members of the audiences spoke highly of the family's singing and dancing. "Even though I cannot understand the meaning of your songs, I feel that your songs are similar to our local Indian music. I am familiar with your songs," one spectator reportedly told He Wenguang.
"We promote our culture and music … to people in the United States. Most (spectators) were attracted by our folk songs and dances, as our songs are valuable treasures that have been inherited for thousands of years," says He Wenguang.
Their Dreams
He Wenguang has several dreams; he plans to hold a family concert in Vienna's Golden Hall, and he plans to film a television musical about his family. In addition, he wants to establish a museum devoted to the Naxi people's music, poetry and paintings, and he plans to open a school to teach Naxi music and art.
"My family is just a normal Naxi peasant family, filled with love. We live an economical life ... We have good relationships with our neighbors ... My wife and I treat my mother with filial respect, and our children treat us with filial respect," says He Wenguang.
"There is an old Naxi saying, 'If the tree's roots are deep into the soil, the tree will not fall down.' It is also my instruction to my family. My wife and I … cultivate our children well. We cultivated them to be independent and confident … We taught them to show filial respect to the elderly, and to live an economical life," says He Wenguang.
(Women of China English Monthly)