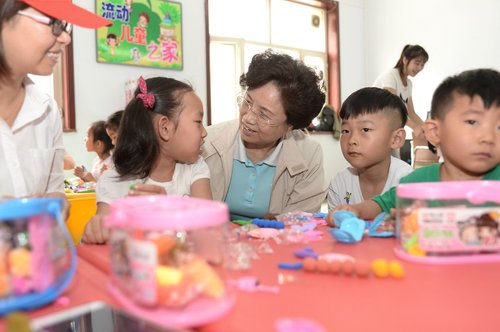 Song Xiuyan (C), vice-president and first member of the Secretariat of the All-China Women's Federation, talks to a girl at an activity center designed for the children of migrant workers. [Women Voice]
Song Xiuyan, vice-president and first member of the Secretariat of the All-China Women's Federation (ACWF), attended a Beijing conference to honor model families across the nation on December 12 where she highlighted the organization's role in promoting civilized families.
In her speech, Song drew attention to President Xi Jinping's remarks in November 2013 when he met the then newly-elected ACWF senior officials by urging ACWF officials to take advantage of the significant role carried out by the nation's females in inheriting traditional Chinese virtues.
In November 2014, Xi requested ACWF staff members to "carry out widespread family civilization construction activities in an in-depth manner" in order to create a civilized social atmosphere, Song recalled, saying that Xi's instructions indicated a clear direction for the federation's work.
"The family is the traditional and advantageous domain of the ACWF. Since the 1950s, we have organized a variety of relevant activities such as the Five-Good Families and Five-Good Civilized Families campaigns," she said.
"Since the 18th CPC National Congress, we have followed President Xi's instructions and taken the CCGCEP's arrangement seriously; attached great importance to the Five Good Families and the Most Beautiful Families initiatives; and, innovated our ideas and work methods constantly to make new breakthroughs," she added.
Launching the Looking for the Most Beautiful Family Campaign
"Since 2014, the federation has continuously innovated its activity platforms," said Song. For example, that year, it launched the Looking for Most Beautiful Family campaign in collaboration with the 700,000 or more Women's Home activity centers across the country.
"In the meantime, officials and staff members from women's federations at all levels visited villages, communities and households, personally explaining information about the campaign to local families. In addition, posters and videos were presented to raise awareness."
Anyone can join the campaign via online and offline platform, commented Song. "In 2015, about 250 million participants took part in the nomination and voting process, of which over 1.83 million households were officially recognized. An independent report indicated that the campaign boasts an attention rate of 92.7 percent and a support rate of 96 percent."
Sharing Stories of Families with Good Virtues
"Good family virtues in vast numbers of households and good public morality lay a solid foundation for national development, progress and social harmony," said Song.
"Therefore, we discovered, tapped and spread the good virtues contained by normal families in an in-depth manner, and publicized stories concerning such virtues and families through speech tour and story sharing by exemplary families as well as short film broadcasting display.
"Last year, the ACWF organized over 700,000 Most Beautiful Family story-telling sessions and family virtues and discipline display activities, inspiring more families to learn from these model families."
Improving Work Methods on Family Education
"Taking the over 350,000 parenting schools as a platform, the ACWF has organized diverse activities, including parent-child reading events, family dramas and Mothers' Classroom training centers, to guide parents, particularly moms, to play their unique role in inheriting family virtues and making socialist core values the root in their families," said Song.
Enlarging Coverage using Net and New Media
"The ACWF's Women Voice news platform, along with over 4,300 local new media accounts run by women's federations, regularly makes use of the latest technologies to publish messages, including such forms such as cartoons, animation and videos to enrich the contents, in a bid to increase participation among netizens.
"In early 2016, the launch ceremony for this year's Looking for the Most Beautiful Family campaign was broadcast live online for the first time, reaching a total of over 4 million viewers and largely extending the participation and influence of the campaign."
At the end of her speech, Song stressed that women are a great force in promoting social civilization and progress. "We will strive hard to make new innovations and greater contributions to raising the level of civilization among the entire society," she concluded.
The conference was organized by the Central Commission for Guiding Cultural and Ethical Progress of the Communist Party of China (CCGCEP).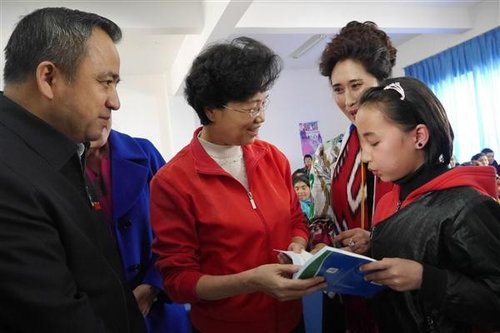 Song Xiuyan (C) talks with a child participant at an activity organized by the ACWF. [Women Voice]
A member of an honored family in the Looking for the Most Beautiful Family campaign signs her name on a poster. [Women Voice]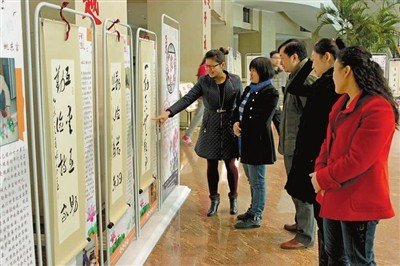 People look at exhibits showcasing family virtues. [Women Voice]
A family takes part in a parent-child reading activity held by the ACWF. [Women Voice]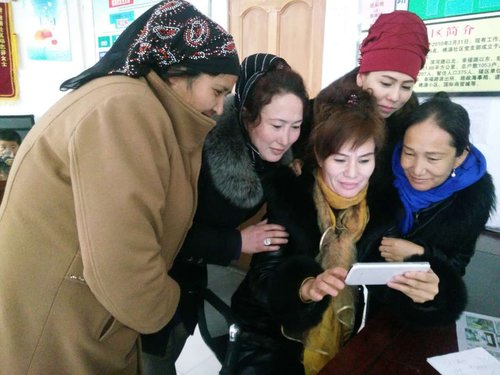 Women watch a live broadcast of the launch of the ACWF's Looking for the Most Beautiful Family campaign. [Women Voice]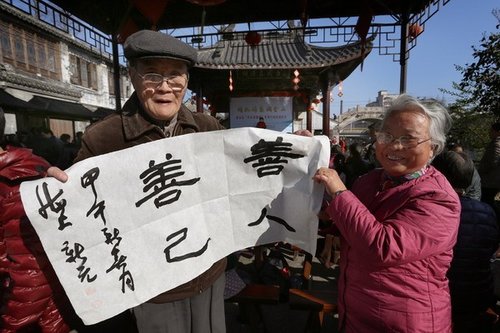 An elderly couple show off their calligraphy which reads 'Being benevolent to others and yourself'. [Women Voice]
(Source: Women Voice/Translated and edited by Women of China)