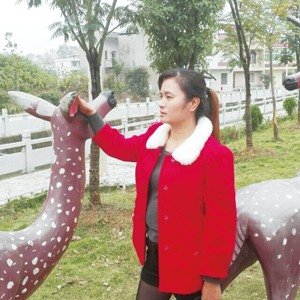 Li Lian [China Women's News]
Li Lian, 44, president of a village's women's federation in the county of Yangxin, central China's Hubei Province, lost her life after she rushed to join her local community's flood relief efforts on June 28.
Yangxin was hit by a heavy storm on June 27, with the rainfall exceeding two meters in eight hours.
Shortly after the storm set in, Li started her round of visits to each household in the community, trying to get an overall picture of the losses and monitor the people trapped by the rising floods. Without rest, she went on to inspect dams in another two villages in the afternoon.
Early in the morning the next day, the official hurried out again after receiving a phone call from superiors who requested all the village leaders to convene at 4:00 a.m. and patrol all the dams in the region. She also took with her a bundle of woven sacks for plugging possible holes.
However, the dedicated woman failed to make it to join her colleagues. She drowned in the torrential floods and pouring rain whilst on her way to the office of the committee. Her body was found around 15 hours after the accident.
The villagers felt sad about the sudden demise of such a good leader. "She was kind, and always helped us out of problems," one said.
Li was elected president of the community's women's federation in 2014, voted in by a large majority. She remained diligent, careful and responsible in work, praised local authorities.
Li applied to join the Communist Party of China in 2014, and was recently admitted as a probationary member this June.
While she had not obtained full membership at the time of her death, her devotion to the people has proven her qualification, commented a reporter.
(Source: China Women's News/Translated and edited by Women of China)