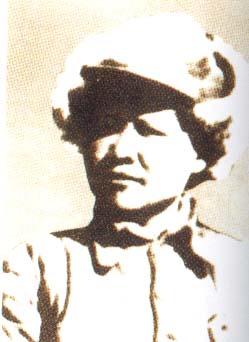 Li Lin [blog.sina.com.cn]
Li Lin, three months pregnant at the time, took her own life with her last bullet at the age of 24 during a battle against Japanese forces.
Born in 1916 in Minhou County, in southeast China's Fujian Province, she followed her adoptive parents to move to the island of Java in Indonesia when she was still a small girl.
When she turned 14, Li returned to China with the resolve to continue with her studies. Like many other young compatriots of the time, she devoted herself to the forces of the anti-Japanese national salvation movement. Once she even wrote a passionate article to express her firm determination to fight against the Japanese invaders.
On December 12, 1936, the Beiping Students Union (Beiping is the old name for today's Beijing) organized a large-scale demonstration to protest the then-Kuomintang government over their arrest of the Seven Martyrs of the Anti-Japanese National Salvation Association. Li, who served as flag-bearer for the demonstration, sustained a head injury whilst fighting against the police officers who were sent to suppress them.
Shortly afterward, Li joined the Communist Party of China (CPC) and rushed to the anti-Japanese front-line in the Yanbei region, in the north of today's northern Shanxi Province.
In late April 1940, Li, together with her fellow soldiers, fought hard against Japanese forces and tragically fell down when the horse she was riding was shot.
At the time, as the last two Chinese soldiers were killed in gunfire, Li was also shot in the right leg and injured in the chest. However, the tough lady still kept fighting. She shot several Japanese soldiers and forced the enemy to retreat and fire from a distance.
In the end, Li took a small pistol from her waist and calmly threw a glance down at the barrel. There was only one bullet left. At that moment, she felt a sharp pain in her stomach, which was the movement of her three-month unborn baby. Instinctively, she stroked her belly.
Li then clenched her teeth, struggled to stand on her feet, pointed her pistol at her throat and calmly pulled the trigger...
The 24-year-old woman sacrificed her life bravely and gloriously for her motherland.
(Source: blog.sina.com.cn/Translated and edited by Women of China)