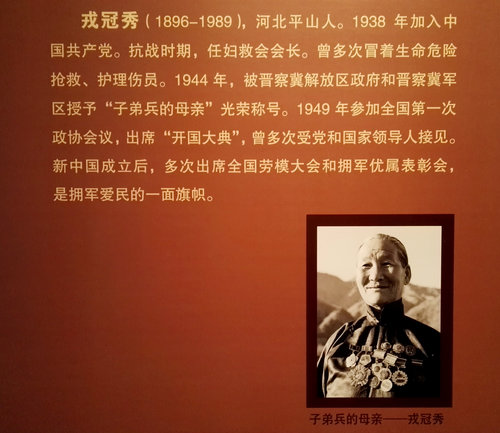 A picture of Rong Guanxiu alongside her profile [Women of China/Sandy Zhu]
Rong Guanxiu, who rescued and tended wounded compatriots during the Chinese People's War of Resistance against Japanese Aggression (1937-1945), has since been hailed as a "mother of Chinese soldiers".
Born in Pingshan County, north China's Hebei Province, in 1896, Rong joined the anti-Japanese national salvation movement at a young age. She raised provisions and food for the Eighth Route Army, established a women's national salvation association, organized literary classes and promoted the anti-Japanese movement.
Many times, Rong risked her life to rescue wounded soldiers under gunfire and care for them. In 1944, she was granted with an honorable title, "Mother of Chinese Soldiers", by the government of north China's Shanxi-Chahar-Hebei liberated areas and the Shanxi-Chahar-Hebei Field Army.
In addition, Rong sent her sons to join the army to defend the country. "I have three sons and entered all their names for the army. If the army doesn't mind the old age of my husband, he can feed horses for the Eighth Route Army, too," said Rong.
Under her influence, many local women sent their husbands and sons to the front line.
In 1949, Rong attended the First Chinese People's Political Consultative Conference (CPPCC), China's top advisory body, and was at the founding ceremony of the People's Republic of China (PRC) as a representative from the northern region.
At the state banquet, Chairman Mao (1893-1976) held her hands and asked, "What's your name?"
"I'm Rong Guanhua," answered Rong.
"I'm familiar with your name," said Chairman Mao with a smile.
In 1951, her three sons died in the Korean War (1950-1953), in which a UN force led by the United States fought for South Korea, and China fought for the North.
The army and her family hid the sad news from her. The army also wrote family letters to her on behalf of her sons.
When her sons' deaths were eventually confirmed, Rong suppressed her grief and even enlightened her family, saying, "They died for the happiness of the North Korean people and the happiness of Chinese people. They died glorious deaths!"
When Rong died in 1989, her fellow villagers and the veterans that she rescued and tended to, cried for the great woman.
In 2009, Rong was honored as one of the Double Hundred Figures, namely the 100 hero models who made outstanding contributions to the founding of the PRC and the 100 individuals who had moved the Chinese people since then.
Rong, an ordinary rural woman, left an immortal monument through her great maternal love.
(Source: yanzhao.yzdsb.com.cn/Translated and edited by Women of China)