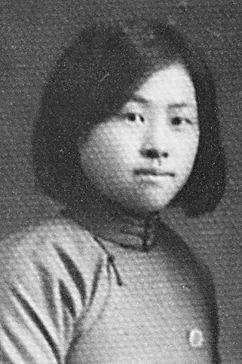 Zhang Zonglan [blog.sina.com.cn]
Zhang Zonglan, who gathered military intelligence on the Japanese enemy, was exposed as an underground member of the Communist Party of China (CPC) and killed at the age of 20.
Born into a poverty-stricken family in Shuangcheng County in northeast China's Heilongjiang Province, Zhang began school at the age of 8.
In 1934, she went to stay at her elder brother and sister-in-law's house for shelter in Jiamusi City in the eastern part of the province, and later continued her studies at Huachuan County Middle School, which was an underground activity center for the CPC at the time.
Both her brother and sister-in-law were already CPC members. Under their influence, Zhang took active part in the local student anti-Japanese national salvation movement and helped mobilize other female students to contribute to the cause.
In 1935, Zhang joined the CPC herself, becoming one of Jiamusi's youngest members. When the CPC's underground committee branch was established in the city, Zhang was selected as an official to take charge of the work related to women.
In late 1936, in accordance with the CPC's instruction, Zhang took advantage of her graduation and found a job as a clerk in the Japanese puppet regime's offices in Huachuan County, where she gathered intelligence for the underground committee and the Northeast Anti-Japanese United Army.
In March 1938, Japanese forces fought the anti-Japanese troops in the lower areas of the Songhua River, throwing Zhang's city into white terror.
Even worse, an underground CPC member was captured and turned informant. Zhang immediately sent word to the underground committee and hid the CPC's important files inside hollow carrots, entrusting them to other underground CPC members to take them out of town.
On March 20, Japanese forces broke into the hotel where Zhang and her sister-in-law were staying and forcefully arrested them.
The sisters fought back but were badly wounded and taken away.
Three days later, Zhang was executed.
(Source: cctv.com/Translated and edited by Women of China)