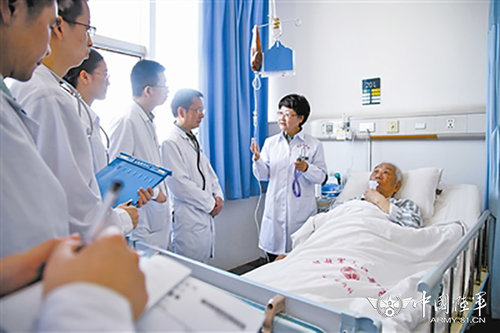 Ding Shifang (R2) checks the condition of a patient with trainee doctors. [army.81.cn]
As the 95th anniversary of the founding of the Communist Party of China (CPC) approaches, Liberation Army Daily conducted an interview with Ding Shifang, an outstanding CPC member who diligently maintains her doctor's post and makes contributions silently.
"Why did you join the Party?" asks the journalist, going directly to the theme of that day's interview.
"To pursue the most beautiful figure in my heart," Ding answers decisively.
Ding notes that her mother joined the Party at the young age of 15 while her father was an excellent CPC member serving in the army. Ding often moved to different places with her parents in her childhood, as was required by her father's work. Though living conditions were quite arduous, Ding's parents never complained. Instead, they tried their best to do their jobs as well as they could.
"Each time I watched them leave for work and disappear in my sight, I thought those were the most beautiful figures in the world," Ding said.
Influenced by her parents, Ding had aspired to become a CPC member since her childhood.
In 1987 when Ding graduated from Xi'an Medical University with a master's degree, her mentor hoped she could stay on for teaching. Meanwhile, Ding received many job offers from well-known hospitals. Finally, she chose the Wuhan General Hospital, an army hospital. "I have special feelings for the army. I felt I was a half CPC member after I joined the army," Ding explained.
However, Ding didn't submit her application for Party membership right after her enrollment to the army. "The reason is simple: I felt that compared with my father and other veteran Party members around me, I had a long way to go to meet standards," Ding spoke openly.
Therefore, Ding redoubled her efforts to improve her personal and professional qualities. Each time when doctors and nurses went to a ward to check the situation of a patient, Ding was always the first one there. She recorded with great care, never letting any detail escape from her pen. In addition, when doctors discussed conditions of patients, Ding was never absent. Soon, Ding became the backbone of her department.
In 1991, Ding submitted her application to the Party branch in her hospital for joining the CPC. Soon after, she got an approval.
After Ding became a Party member, she worked even harder. Ding continued her doctorate study; completed an American training for cardiovascular medicine professionals with a high score; and, created several first treatment cases in China.
Ding never turns off her mobile phone in case of an emergency. On the eve of the Spring Festival of 2014, Ding got a call from her hospital right after she came home from work. Learning that a patient had suffered a serious heart attack, Ding rushed to her workplace immediately.
Due to her selfless dedication, Ding received many awards. But Ding said what she values most is her identity as a CPC member.
When Ding finished her training in the U.S., her mentor, an internationally-renowned expert in cardiology tried to persuade her to stay and applied for permanent settlement in the country for Ding's husband and daughter. However, Ding declined his offer and returned to China without hesitation.
"People will know where they should go when they think clearly where they come from," Ding said when recalling that experience.
At the end of that day, Ding bade farewell to the journalists of the Liberation Army Daily and walked into a ward, leaving them a beautiful figure.
(Source: Liberation Army Daily / Translated and edited by Women of China)