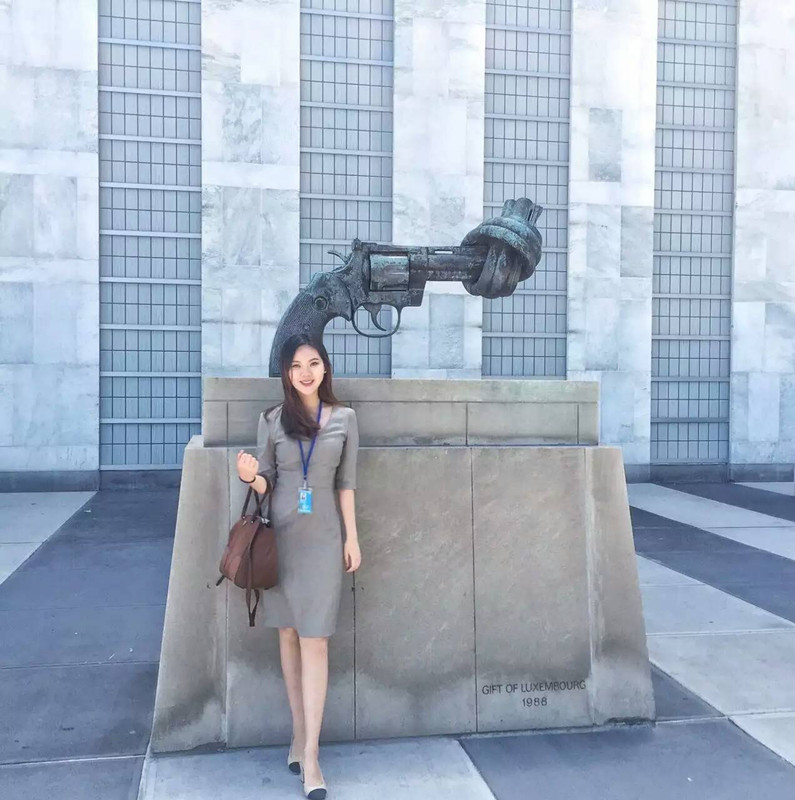 Wei Chang [Women of China English Monthly]
Wei Chang, a native of Southwest China's Chongqing Municipality, says she has dreamed of working at the UN since she watched a TV series during her summer vacation in 2004. She was 9.
"The TV series was about a group of orphans who earned a meager living as street performers. I felt pity for them. I hoped that when I grew up, I would be able to help needy people, not only in China, but in other countries. Thus, I dreamed of becoming a UN staff member," Wei says. Since then, Wei has spared no effort in trying to realize her goal.
While she was a student at Chongqing Foreign Language School, she put great effort into developing her language and social skills. In 2011, she attended Kingston High School, in the United States, as an exchange student.
Wei was admitted to Boston University, in the northeastern United States, in 2013. To broaden her vision, she participated in a cultural-exchange program, in Germany, in 2014. Before she graduated (in May 2016), with a bachelor's degree in economics, she interned as a journalist with Voice of America for four months.
By studying economics, she says she learned how to analyze an issue based on statistics, and she adds her previous experiences helped her pursue her dream.
Wei has paid close attention to the UN's recruitment information since 2015. "I sent my resume, 58 times, to the UN headquarters, and I took part in three rounds of job interviews. I was not confident before the interviews, because I only had a bachelor's degree. Most UN staff members had a Ph.D. or master's degree," Wei says.
"Job applicants should know the UN charter, and the UN's major responsibilities and main organs. An excellent ability to deal with emergency situations is the quality that the UN needs most.
"Being able to speak English, German and Chinese gained me extra points in the interviews. During the second round, I was required to write a report on a UN conference within 45 minutes. The conference's theme was selected randomly and I had to do online research and summarize information with accurate words at the same time. That was a test of my capacity for strain and my knowledge of international affairs," Wei says.
She joined the UN's Department of Management, as an intern, in June 2016. Her responsibilities include assisting the human resources department with recruitment and analyzing statistics about the UN's missions.
During the UN Global Compact Leaders Summit, held on June 22, she met leaders in various sectors. "My talk with Adena Friedman, President of NASDAQ, was inspiring. She told me that she was an intern with NASDAQ 23 years ago, and she encouraged me to continue striving to achieve my dream," Wei says.
Wei will join the UN World Food Program in October as a logistics officer, and she will work in Rome, Italy.
(Source: Women of China English Monthly October 2016 Issue)