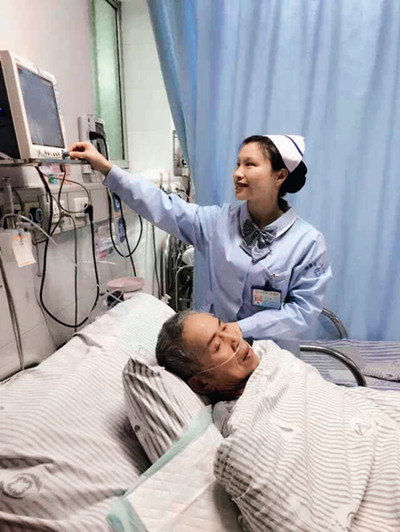 Mei Mei works as an emergency room nurse. [Women of China English Monthly]
The Chinese Dream belongs to each Chinese person. Women of China (WOC) has been interviewing Chinese women, from various sectors, and sharing their stories of achieving their ideals. In this edition, WOC interviews Mei Mei, head nurse of the intensive care unit at Tongliang District People's Hospital, in southwestern China's Chongqing Municipality.
Mei Mei has experienced some heart-stopping moments — and witnessed numerous miracles — since she became a nurse 19 years ago. One emergency, during which a 31-year-old man's heart quit, occurred in October 2013.
The man was transported by ambulance to Tongliang hospital, and Mei, as an emergency room nurse, was tasked with helping the doctor in efforts to revive the man. Mei assisted the doctor as he performed cardiopulmonary resuscitation. Even though they did chest compressions and used the defibrillator (to shock the man's heart into pumping) for 30 minutes, the man's heart failed to respond.
In accordance with the hospital's emergency-treatment regulations, a doctor can terminate resuscitation efforts if he/she fails to revive a patient within 30 minutes. When Mei heard the man's wife cry, loudly, outside the emergency room, she said to the doctor, "Let's try 10 more minutes. Maybe there will be a miracle."
Mei continued with the chest compressions for another 22 minutes when, miraculously, the man's heart resumed beating. Mei becomes excited whenever she thinks about pulling that man back from death.
Mei has always strived to be a highly qualified nurse. She was the first nurse in Tongliang hospital to learn how to perform dialysis treatments.
In 1998, when she worked in the hospital's pediatric department, she volunteered to attend training to learn how to perform kidney dialysis. The training was conducted in another hospital.
During the training, she learned how to use the dialysis machines; after the course, she memorized the English instructions that came with the devices. While most of the trainees needed two months to have a sound grasp of how to use the machines, Mei needed just 15 days.
As many of the patients in the intensive-care unit (ICU) are unable to speak after they undergo a surgery, Mei often asks them questions, by writing on cards, to learn about their needs.
In addition to providing medical treatments, ICU nurses are also responsible for massaging patients, and for washing their heads and feet. "Internationally, it has long been the trend that medical treatment has been combined with personal care and services. We need to adapt ourselves to meet the new requirements in nursing work," says Mei.
Mei's team has 52 nurses. Mei has formulated rules and regulations (for her team) that are stricter than the hospital's rules. If a nurse makes a mistake, he/she will be fined by both the hospital and the department. In addition, if a nurse is recognized for outstanding work, he/she will receive a bonus from the department.
Mei always encourages young nurses to pursue self-improvement, and to keep pace with the progress of medical science.
"The US Navy's Sea, Air and Land (SEALs) teams are known as the most elite and highly trained special forces in the US military. Our goal is to become the 'SEALs team' of nurses. To achieve that goal, we must serve every patient with loving care, and with excellent, professional skills," Mei says.
(Source: Women of China English Monthly January 2016 Issue)