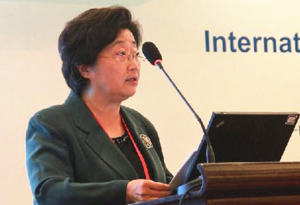 Cui Yu, vice-president and member of the Secretariat of the All-China Women's Federation (ACWF), delivers a speech at the Global Poverty Reduction and Development Forum in Beijing on October 16. [China.com.cn/Wang Qian]
Cui Yu, vice-president and member of the Secretariat of the All-China Women's Federation (ACWF), has called on all society and international organizations to strive in their further efforts to relieve global women's poverty.
Addressing the Global Poverty Reduction and Development Forum in Beijing on October 16 on behalf of the ACWF, Cui introduced the federation's successful experiences in unswervingly caring for and paying attention to women and promoting women's poverty relief.
The forum was held to observe China's second National Poverty Relief Day and the 23rd International Day for the Eradication of Poverty.
Cui said that putting women's interests as a major part of the national poverty relief strategy, the Chinese government has made policies and regulations in favor of such goals and overall development, and carried out relevant work among women.
To date, more than 200 million women have been lifted from poverty, and over 26 million rural and urban impoverished women have received the minimum living allowance, Cui said.
The occurrences of women's poverty in key counties for national poverty alleviation and development work has declined from 20.3 percent in 2005 to 9.8 percent in 2010, Cui said, adding that the achievements that China has achieved in this sector has captured international attention and provided valuable experiences for the world.
According to Cui, over the past years, the federation has put poverty relief and overall development as a key task, played its role in promoting consistent concern for women from a gender-conscious perspective, and empowered women in various fields including the economy, politics, education and health.
In women's empowerment, the federation has ensured impoverished women's equal rights in poverty relief; in investment, it has helped them achieve economic development through small loans; in training, it has strived to improve impoverished women's development ability; in health, it has routinely distributed free breast and cervical cancer screenings; and in employment, it has guided impoverished women in the course of urbanization in their employment and startups.
On the other hand, as China still has some 35 million women living under the poverty line, Cui suggested that all society should implement the basic State policy of gender equality, advocate gender equality in the field of poverty relief, eliminate discrimination and prejudices against women, safeguard their developmental rights and equal rights of sharing in outcomes, make innovations in policy tools, and stimulate women's potential. All of this is done to create beneficial conditions and environment for economic and social coordinated development between women and the nation, said Cui.
Cui also suggested that international organizations and financial institutions should attach great importance to women's poverty relief and development problems, strengthen international developmental cooperation in the field, increase financial and technical aid in developing countries, and narrow the gap in terms of women's development between nations.
In addition, women's organizations of different kinds should show their concern to women's poverty, lead women to actively take part in social and economic activities, promote women in sharing equal resources and opportunities in employment and startups, decision-making, cultural education, medical treatment and social security, so that they can play their part in women's poverty relief and overall development.
Data shows China has lifted more than 600 million people out of poverty in the past 30 years, accounting for about 70 percent of those brought out of poverty worldwide.
The Chinese government pledged to enact more support policies to lift the country's remaining 70 million poor people above the poverty line by 2020, said Chinese President Xi Jinping while addressing the forum.
(Source: China Women's News/Translated and edited by Women of China)