According to Forbes, there are more than 20 women between the ages of 24 to 50 with holdings of more than one billion dollars.
Three "Mosts"
Hind Hariri
The youngest – daughter of the former premier of Lebanon, aged 24. The 24-year-old Hind Hariri, the daughter of the former premier of Lebanon, inherited holdings in real estate, banking, and media from her family after her father was assassinated.
The most related – three daughters of a magnate in Turkey. There are three women from Turkey on the Forbes list and they all come from one family. They are all daughters of a media magnate in Turkey called Aydin Dogan.
Joanne (J.K.) Rowling
The most famous – the author of Harry Potter is on the list, too. The most famous woman on Forbes' list is Joanne (J.K.) Rowling. The 42-year-old writer used to be a poor, single mother, but her story Harry Potter has made her a writer with more than one billion dollars.
Three Chinese Women
Three of these 20 wealthy women come from China. They are Chu Lam Yiu, Zhang Xin and Yang Wai Yin.
Yang Wai Yin and her husband
26-year-old Yang Wai Yin inherited 58 percent of the stock of Biguiyuan from her father, Yang Kwok Keung, making her the wealthiest woman in China.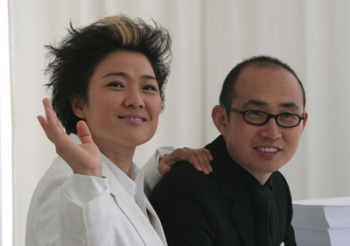 Zhang Xin and her husband Pan Shiyi
Unlike Ms. Yang, Zhang Xin and Chu Lam Yiu started from scratch. 43-year-old Zhang Xin and her husband Pan Shiyi own the successful Chinese real estate development agency, SOHO China. Forbes speculates that Zhang Xin's personal property is about 3.8 billion dollars.
Chu Lam Yiu
Compared to Yang Wai Yin and Zhang Xin, Chu Lam Yiu is even more mysterious. Her personal property is estimated to be at least two billion dollars. She is the chairwoman of Huabao International Holdings Limited. Most women on the Forbes list inherited their wealth–only four of them started from scratch. And 38-year-old Chu Lam Yiu is the youngest of these four. As reported by National Business Daily, though reports say she is from Hong Kong, she is actually from Sichuan of Mainland China. Her husband is the king of flavoring essence – Lam Kwok Man.
Stories about Chu Lam Yiu
A Low-pitched Boss
One of her employees told the reporter: "Chairwoman Zhu is very low-key. She doesn't like to talk about how she became wealthy and the struggles she endured. She'd rather discuss business with us. So we know little about her."
In 2007, Hu Run had listed Chu Lam Yiu as No. 44 on Century Wealthiest People. At the time, she was estimated to have 13.5 billion Hong Kong Dollars. Mr Hu admitted that Chu Lam Yiu was very mysterious and he could not find much information on her. He found out about her enormous wealth from an English publication.
Chu Lam Yiu's ancestral home was in Sichuan and she herself was born and raised in Sichuan. She became interested in commerce in college. She did not just want to graduate and find a good job, so she started her own business. "In the beginning, she didn't think of the flavoring essence business, but she has gradually found her fortune in it," said an employee. Before long, Chu Lam Yiu set up a trading company of flavoring essence and began to show her genius in business.
It was also the flavoring essence business that brought Chu Lam Yiu and her husband together. Lam Kwok Man had created Huabao Company in Shenzhen and established Shanghai Huabao Company in the 1990's while Chu Lam Yiu was also in Shanghai working on her business in flavouring essence.
Listing on Hong Kong Market
In 2004, Huabao Group began to work on getting listed on the Hong Kong stock exchange. In March 2004, the company changed its name into Huabao International Holdings Limited and became a listed company. Chu Lam Yiu owned 90.99 percent stock of the company before, and after a capital infusion her shares reached 97.57 percent.
After that, Chu Lam Yiu successfully cashed out several times. As a result, she has cashed out 3.216 billion Hong Kong Dollars and her holding has been reduced to 65.22 percent Now, her shares are worth nearly 12.33 billion Hong Kong Dollars.
Clients Include Biggest Brands
According to the company reports of Huabao International, the company develops, produces, and distributes flavouring essence for cigarettes and foods.
As of March 31, 2008, Huabao International's distribution for cigarettes had increased 37.7 percent from the same period last year. Top 10 cigarette enterprises of China are all its clients. It's current cliental brands include Hongmei, Baisha, Hongjinlong, Honghe, Hademen, Huangguoshu, Hongqiqu, Hongshancha, Shuangxi and Hongtashan.
(Source: Everyday Economics News August 13,2008)