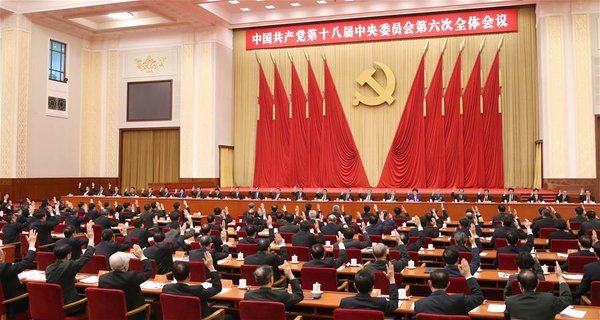 The Sixth Plenary Session of the 18th Communist Party of China (CPC) Central Committee is held in Beijing, capital of China, from October 24 to 27, 2016. [Xinhua/Pang Xinglei]
The Communist Party of China (CPC) has taken notable steps to combat corruption, according to Argentine political observers.
Nadia Radulovich and Maria Cecilia Peralta, co-founders of Argentine consulting group Asia Viewers, hailed President Xi Jinping's decisive message to the Sixth Plenary Session of the 18th CPC Central Committee, held from October 24 to 27 in Beijing.
"The goal of the anti-corruption campaign is to change the political culture and gain the confidence of the people, once they see real results ... and transparency within the government," they said.
Xi, they added, will continue to fight corruption through administrative reforms and disciplinary measures, as well as public participation "to confront and put an end to the scourge."
Gustavo Girado, head of the consulting firm Asia & Argentina, said that "strengthening Party building has been part of President Xi's objective for many years."
"Since his youth, he made fighting corruption one of his priorities," said Girado, adding that Xi's prominent position now allows him to decisively tackle the problem.
"The CPC, under his guidance, has gained singular importance," he said.
"The party is now becoming more important, but what stands out is stronger management in which the president has succeeded in combining management with leadership," said Girado.
That is a key development given the uncertain economic and political climate affecting the world's leading economies, he said.
Today's landscape also makes it necessary for China "to tell the rest (of the world) where it stands at the current moment when it is embarking on an important stage of its economic development," Girado said.
During the Sixth Plenary Session, the CPC adopted two documents that provide institutional guarantees for party governance by laying down some intra-party rules and regulations.
(Source: Xinhua)