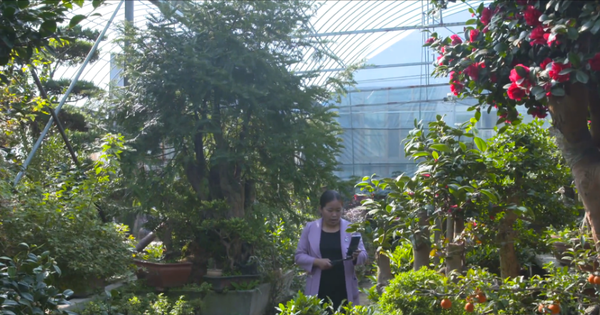 Jiang Aihua makes a livestream in the garden. [china.com.cn]
Shuyang, in east China's Jiangsu province, has shaken off its impoverished county status recently and become better-off as a leading producer of bonsais thanks to the vigorous promotion work carried out by local rural women.
According to the latest figures, the county has a bonsai growing area of 520,000 mu and as many as 40,000 online stores in the locality.
Many gardeners nowadays publicize and sell their products via the Internet. Jiang Aihua is one of them. In 2007, she quit her low-paid job and joined her husband's bonsai business.
Jiang was among the first in the county who ventured into e-commerce when it just began to emerge in China at the beginning of the 21st century.
Last year, online streaming appeared. However, in contrast to those who were broadcasting their everyday lives, Jiang was the first to use live-streaming as a marketing technique.
Every morning, she tours around her garden and introduces plants to viewers who can place orders for the commodities they like.
In the afternoon, unlike the morning tour, she would share knowledge on gardening, such as how to trim, care for the trees and model them. Through the process, she often generates many sales.
In the evening, Jiang would often sit down with fellow gardeners and share their daily work and live-streaming experiences. Jiang, as the leading e-commerce gardener in the area, passes on her knowledge and expertise.
According to Jiang, the public prefer live-streaming to photos. Live-streaming enables buyers to view bonsais better and help them establish a familiar and trustful relationship with sellers through close interactions.
In the first half of 2018, Jiang sold 3-million-yuan worth of bonsais. With the reform and opening-up, people's living standard has improved significantly, thus bringing huge demands for the distinctive miniature trees in Shuyang county.
With the emergence of e-commerce, local gardeners no longer need to carry bonsais on their shoulders and get them sold in big cities, instead they can sell their bonsais all over China without leaving their home.
As a woman, Jiang came to the conclusion that e-commerce suits housewives. They have more time to spend with their family while making much money.
"After taking on the e-commerce business, I do not feel lost any more," said Jiang, "It is a self-fulfilling experience which comes with decent income."
(Source: china.com.cn / Translated and edited by Women of China)