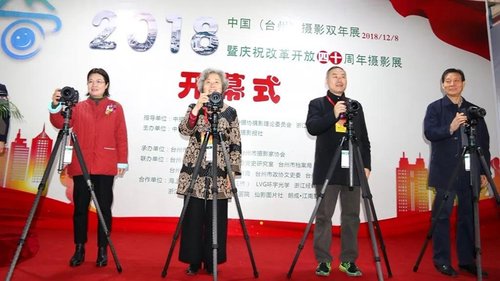 Sheng Changli, former vice chairman of the CPPCC Committee of Zhejiang province, Yang Yuluan, vice president of the China Photographers Association, Shen Wanru, deputy director of the Taizhou municipal people's congress standing committee and Xu Linde, vice chairman of the CPPCC Committee of Taizhou open the 2018 Taizhou photographic exhibition. [Wechat Account: meilitaizhou]
The fifth Taizhou photographic exhibition took place in the Hehe park of Taizhou, Zhejiang province on Dec 8, and will last until Dec 18. It is sure to attract the admiration of many citizens.
The photographic exhibition, one of the commemorative events celebrating the 40 years of reform and opening-up, exhibited more than 5,000 photographs mainly focused on people's livelihoods. The works, from the perspective of the citizens, intuitively show the changes in Taizhou's economy, urban development and citizens' livelihoods from the beginning of the reform and opening-up.
The exhibition is composed of a photo display celebrating the 40th anniversary of reform and opening up, another telling Taizhou stories from ten old photographers' camera lenses, two more of Taizhou native images (individual and group works), a national famous invitational exhibition, the 17th Zhejiang photographic art exhibition, a Taizhou new art organization group exhibition and a Taizhou photographic cultural industry development achievements exhibition.
"These wonderful pictures recorded Taizhou people's footsteps of struggle and offer strong power for deepened reform," said Chu Fulong, chairman of the Taizhou Photographers Association.
Many well-known photographers and experts attended the "Time·Home" native image seminar in Kaitou tower to discuss creation of Taizhou's literary and artistic works.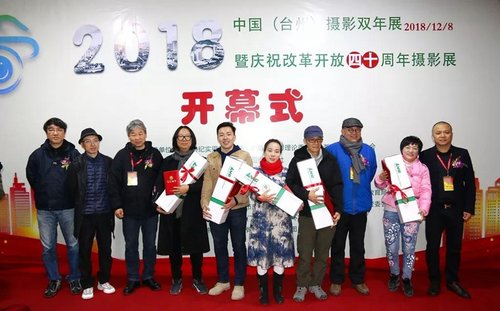 Five photographers win the title of "LVG excellent photographer" in this year's photographic exhibition. [Wechat Account: meilitaizhou]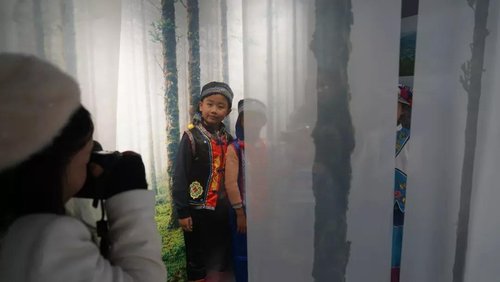 Visitors take photos of the photographic works. [Wechat Account: meilitaizhou]
(Source: China Daily)
Please understand that womenofchina.cn,a non-profit, information-communication website, cannot reach every writer before using articles and images. For copyright issues, please contact us by emailing: website@womenofchina.cn. The articles published and opinions expressed on this website represent the opinions of writers and are not necessarily shared by womenofchina.cn.