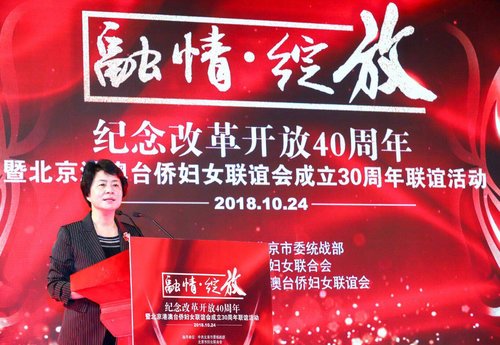 Cai Shumin, President of Beijing Women's Federation, speaks at the event. [Beijing Women's Federation]
The Beijing Friendship Association of Women from Hong Kong, Macao SARs, Taiwan and Overseas held a special gathering in Beijing on October 24 to celebrate its 30th anniversary.
The meeting, which also highlighted the 40th anniversary of China's reform and opening-up policy, was organized with guidance from the United Front Work Department of Beijing Municipal Party Committee and Beijing Women's Federation (BWF).
Since its establishment, the association has always focused on reform and development in the capital, helping to unite and foster cooperation with Chinese compatriots from Hong Kong, Macao special administratiave regions, Taiwan and countries overseas, as well as their families.
The association has become highly influential and able to unite people after three decades of development, said a spokesperson.
The event included a commemoration activity, a group interview and artistic performances. Zhong Jin, executive vice-president of the association, presided over the commemoration event.
BWF President Cai Shumin delivered a speech to congratulate the association on its anniversary.
She said the association, as a window for communication, has played an important role in deepening friendship among women in Chinese mainland, Hong Kong, Macao, Taiwan and countries overseas.
It has encouraged more people to support construction in the capital, promote the China's long-term prosperity and stability and grand cause of peaceful reunification.
Yan Weiqun, deputy director of the United Front Work Department of the municipal Party committee, expressed his appreciation for the association's achievements in uniting compatriots and hoped it can make even more achievements in the future.
Mu Hong, director-general of the Liaison Department of the All-China Women's Federation, expressed her good wishes to members of the association. She hoped the association can integrate its work into the country's development and national rejuvenation so as to achieve the Chinese Dream.
During the interview, a famous host on CCTV (China Central Television), Xie Yingying, invited four representatives to share their experiences about reform and opening-up and the association's development.
The four participants were: Chen Lihua, member of the National Committee of the Chinese People's Political Consultative Conference (CPPCC), honorary president of the association and chairwoman of the FuWah International Group; Chen Meiyi, head of Macau Fisherman's Wharf of the Macao Legend Development Company; Zhang Jinfeng, producer at the Artistic Creation Center of China Film Group Corporation; and, Li Ran, executive vice-president of Beijing Chinese Business Association.
The artistic performances brought the event to a conclusion. Children's joyful dances, charming cheongsam show, folk music from Hong Kong and Macao and Peking Opera performance touched all participants.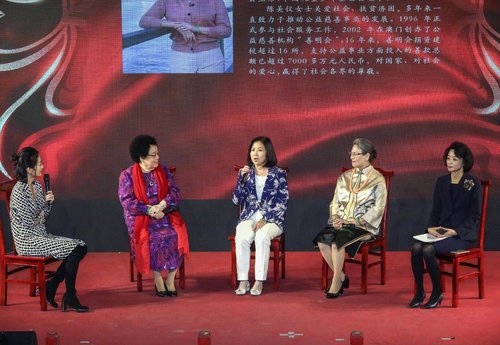 TV host Xie Yingying interviews four participants about their experiences. [Beijing Women's Federation]
Children perform at the event. [Beijing Women's Federation]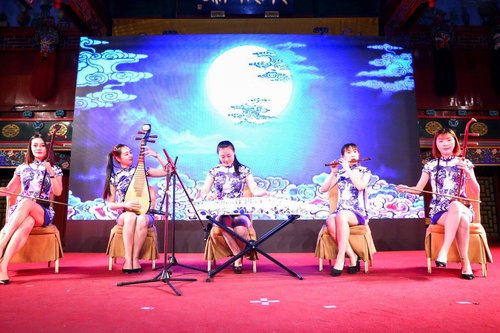 Folk musicians from Hong Kong and Macao perform at the event. [Beijing Women's Federation]