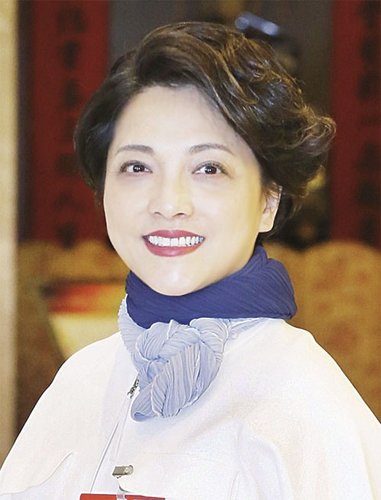 Shen Tiemei [China Women's News]
Shen Tiemei, a deputy to the 13th National People's Congress (NPC) and head of Sichuan Opera Theater from the southwest China province, recently shared her thoughts at a panel discussion with President Xi Jinping on how to promote the inheritance of traditional culture.
"I started to learn opera performing at five, but I think today is the best time to develop the art because our leaders deeply care about traditional culture," said Shen.
Shen has found that more and more young people have fallen in love with Sichuan opera in recent years.
"Some youngsters even want to be my students, which makes me delighted. When young people integrate their emotions into traditional art, our cultural confidence will grow stronger and endure," she added.
Shen was deeply influenced by her father, Shen Fucun, a famous Peking Opera actor of Chongqing Peking Opera Troupe. She could imitate and sing parts of Peking opera The Red Lantern at even two years old.
Now, she devotes herself to publicizing Sichuan opera among Chinese people, which was also her father's wish.
As a three-time winner of the Chinese Drama Plum Blossom Awards, and receiver of 23 other national honors, she has innovated Sichuan Opera performances by introducing solo vocal concerts and symphony orchestras into opera art.
Shen owes her success to strict family traditions. She remembers that her father taught her and her sisters to be humble since they were young, so she once shared a stylized action of greeting in Sichuan Opera with foreign audiences in France.
Sichuan Opera tells many interesting and educational stories, endowing people with good virtues such as kindness, righteousness, propriety, wisdom and trustworthiness, she says.
Since these good family traditions build up her personality, she plans to extract more positive traditions from Sichuan Opera and make them a necessity for young people.
(Source: China Women's News/Translated and edited by Women of China)