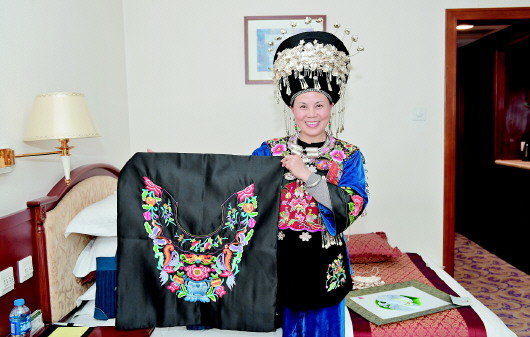 Shi Liping shows her embroidery products. [Xinhua]
Shi Liping, a deputy to the National People's Congress (NPC), who is also known as the principal of Fanjingshan Ethnic Miao Travel Product Development Co. Ltd. in southwest China's Guizhou Province, recently came to Beijing to attend the annual NPC meetings, bringing various embroidery works for demonstration.
As a provincial-level inheritor of Guizhou Miao Embroidery, an intangible cultural heritage, and the founder of a well-known Miao embroidery brand, Gezihua, Shi said that developing Miao cultural commodities is not only a way to carry on ethnic culture, but also a vital task for poverty relief and economic development.
She started learning embroidery at an early age and embroidery soon became part of her everyday life. Shi is now a folk art master and a senior craft art master.
The demand for Miao embroidery products has far exceeded her company's production, which is often sold to foreign countries and regions like the U.S., Japan, Canada, Europe and Southeast Asia.
The business has helped some 3,800 women to work near home, and enabled more than 130 impoverished people to shake off poverty.
In May 2011, several series of Shi's products were designated by China's Ministry of Foreign Affairs as diplomatic gifts; in July 2015, Songtao Miao Embroidery, one of her brands, successfully registered for the Chinese National Protected Geographic Indication certification mark. From 2016 to 2017, Shi launched a Miao embroidery project, making a one-on-one assistance link between local enterprises and villages.
(Source: Xinhua/Translated and edited by Women of China)