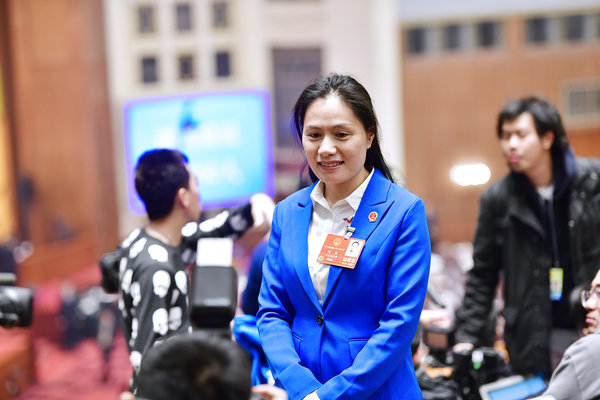 Liu Li gives an interview. [Women of China/Fan Wenjun]

National People's Congress deputy Liu Li, recently proposed that the society and the government should take more measures to help so-called "left-behind" children and migrant worker families.

Liu, who works as a foot masseuse, is committed to building bridges to connect migrant workers and the government.
She said that she was pleased to hear in the latest government work report a pledge to "speed up urbanization process of the rural population."
The nation needs to further improve public services such as employment assistance, medical care, and education during the process of accelerating the progress in which migrant workers entering cities, and let them enjoy better access and have dignity, Liu added.
Having left for the city to work at a young age, Liu has donated money to pay for the schooling of kids in rural areas.
She was named as one of the Top 10 Figures That Moved China in 2010, and has been acclaimed by netizens.
Liu also proposed to include sex education into the country's nine-year compulsory education. "Left-behind" girls commonly live with grandparents, so they lack parental supervision, she explained.
Coupled with the fact that rural sex education is often out of date, and girls in rural areas are often vulnerable to abuse from those around them.
She believes that the migrant workers as parents and grandparents taking care of "left-behind" children must change their conservative attitudes as well as backward concepts in sex education to give children better protection.
She said the government should also increase penalties for crimes that affect "left-behind" children, and implement "a lifetime ban" that forbids law offenders who worked in direct contact with such youngsters from doing the job again.