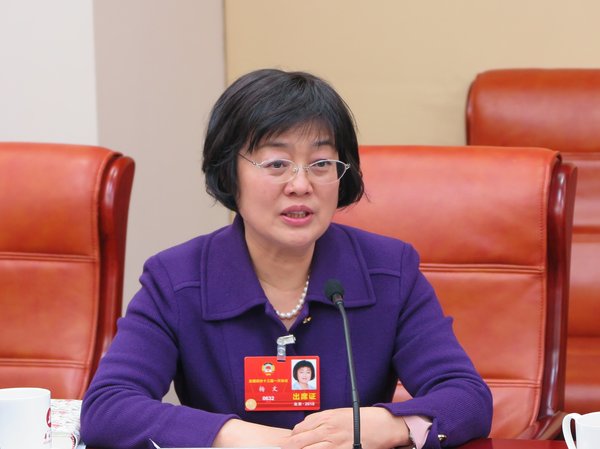 Yang Wen expresses her ideas at the event. [Women of China/ Li Wenjie]
Chinese People's Political Consultative Conference (CPPCC) member Yang Wen recently submitted a proposal on promoting the development of a public childcare system to better tackle the problems with bringing up children.
Yang Wen, who is also the President of Shandong Yingcai University, gave her remarks at a panel session of women's federation sector.
She said that childcare services for second children should be incorporated in the CPPCC's plan especially after the country's implementation of the universal two-child policy in 2015.
Although China has implemented the policy, many families still face difficulties such as too-high nursing costs and lack of time to properly care for children.
At present, the childcare system is mainly dominated by hourly nursing systems with limited resources for full-time professionals and communities. At present it cannot meet the diversified needs of families.
She suggested relevant departments should promote the development of public childcare system for such infants from zero to three to fully implement the two-child policy.
The National Health and Family Planning Commission (NHFPC) estimated the number of births in 2017 would be at least 20.23 million.
However, the figure of hospital births was actually 17.58 million in 2017, down 5.7 percent from 2016.
"The new-born population decreased because much attention is paid on nursing children, which has negative impact on women's career positions and their fertility desires," Yang stated.
Meanwhile, the high costs of hiring baby-sitters and maternity matrons also discouraged many families.
Now, China's childcare work involves many government departments, which has affected their responsibilities.
The government should set up a management mechanism governed by education departments with the cooperation of the NHFPC, women's federations, and kindergartens with responsibilities clearly explained.
The government also should issue relevant laws and regulations to guarantee the development of public childcare systems, market admittance and quality assessments, for example.
Furthermore, the government should increase the financial input, and encourage participation of social capital and social forces.
Yang Wen added that people can promote and perfect the services' system of public childcare by using different means such as establishing a large number of relevant agencies, government purchase of services, and talent cultivation.
Officials can encourage institutions, social organizations, and enterprises to set up nursery schools by giving encouraging policies on tax reduction and authorized staff.
Yang stressed that there are no government-issued standards on the care of children from zero to three years old.
So, she suggests relevant departments should formulate and enact policies to promote standard development and establish a one-stop professional training system.
"The government should learn advanced experiences from other countries and explore diversified childcare forms to provide better services," she added.