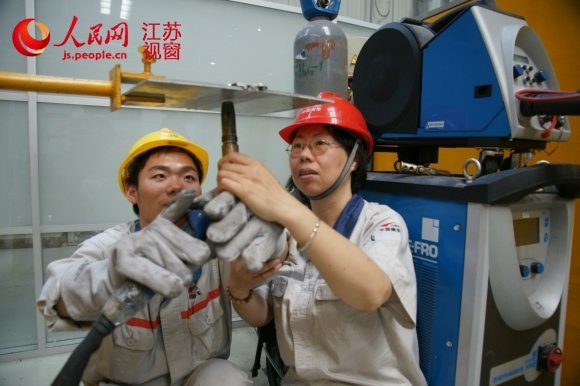 Sun Jing'nan in her workshop [people.cn]
A grass-roots female deputy to the 13th National People's Congress (NPC) has called for closer cooperation between educational institutions and enterprises to provide workers with more opportunities to continue to learning and develop their technical skills.
Sun Jing'nan, 47, is an electric welder at CRRC Nanjing Puzhen Co., which has been a key domestic player in the research and production of rail transport equipment.
Sun followed in the footsteps of her grandfather and parents to become an electric welder at the firm when she was just 19, though few women were willing to choose the hard and dirty work.
It requires physical and mental strength for involved people to squat for hours in summer or winter whilst holding a torch steady and wearing thick protective overalls and a helmet with a face shield.
Sun practiced hard and started to win skills competitions after her second year at the company.
Later, Sun proved herself with outstanding performance in a contest during a training in France. Since then, she has been often approached for assistance when her French partners encounter difficulties and setbacks in their work.
Apart from nurturing more skilled workers for her firm, Sun has been involved in many large projects at home and abroad over the past few decades.
She has been conferred with many awards and titles including the National Labor Medal, Outstanding Chinese Technical Expert and Jiangsu Model Laborer, in recognition of her decade-long contributions.
Sun emphasized that an ideal technician should strive for an integration of their academic learning with practices in their concrete work, when talking about her secret of success.
As a newly elected NPC deputy, Sun proposed to further strengthen partnerships between vocational schools and universities and enterprises, and to create a "fast lane" for grass-roots workers to enhance technical and innovative competence.
(Source: xhby.net/Translated and edited by Women of China)