A promotional poster of the lecture series at Fudan University [Women Voice]
Female role models from around China attended a symposium on April 26 at Shanghai's Fudan University where they delivered a series of speeches and shared their life experiences with graduates.
This year's event, which honored those individuals awarded the title of National March 8th Red-Banner Pacesetter, was timed to tie-in with the forthcoming Youth Day (May 4th) and the graduation season.
Jiao Yang, secretary of the university's Party committee, spoke at the meeting. "Female role models display Chinese women's good virtues, including their devotion to the country, their lifetime dreams and their career pursuits," she said.
Jiao encouraged students to learn from them and dedicate themselves to serving society.
The meeting attracted over 1,500 attendees and its live-stream amassed 207,000 online viewers, according to statistics.
Here are some extracts from the speeches by keynote presenters at the event.
China's First Female Astronaut Liu Yang
"I had a serious talk with my husband before I was scheduled to journey into space," recalled Liu Yang, who is China's first female astronaut.
"What if I never came back, and became a shooting star instead? I insisted that he keep two promises: to take care of my parents and to marry another who knows how to cook, because I was never good at it," Liu explained.
"We astronauts signed up for life insurance in advance, because the mission is so risky.
"My husband kept assuring me that I would have a safe and sound journey back, and the truth is just what he had predicted," Liu added.
Speaking of her training, Liu said she had overcome many difficulties in daily exercises, including G-force simulators, zero-gravity training, and underwater walks wearing 150-kilograms space suits.
"For example, I keep challenging my body limits in the event of spinning chair, which is a necessary course for any astronaut. I need to hold on there for at least 15 minutes," Liu said.
"I finally made it after multiple attempts of dizziness or vomits, during which the national honor as a female astronaut inspired me," Liu added.
In conclusion, Liu shared her motto: "Adhere to the dream, keep loving our motherland, and cherish the opportunities."
Senior Engineer of BeiDou Satellite Navigation System Wang Shufang
"My dream 23 years ago was to promote China's self-innovated navigation system, and get it into the world's top three. Nowadays, my new dream is to make it the No.1," said Wang Shufang, senior engineer of the nation's BeiDou Satellite Navigation System.
Wang said she would never forget the 1997 summer when she and her colleagues made a huge breakthrough.
"My team suddenly burst into joyful tears and finally proved that the whole technological mechanism worked," Wang recalled.
"It's been 10 years since I worked on the system and I am glad to witness its ever-growing power in the sector," Wang said.
In terms of her life regrets, Wang said she was too busy to ask for a day off.
"I couldn't be there to care for my parents when they were on their deathbed," Wang recalled.
Founder of Shanghai Vivid Media Stock Holdings Ltd Yang Hui
"In my opinion, things are changing too fast in the current times. People opt to regard managing their life or business as a 100-meter sprint. In fact, it is like a long-run marathon," said Yang Hui, TV producer and founder of Shanghai Vivid Media Stock Holdings Ltd.
"There is always more to explore in the world of entertainment. And I believe the power of thoughts and silence can encourage people to pursue their dream in the spiritual world," Yang stressed.
"As for me, I spent 24 years producing novel and high-profile TV programs," Yang added.
Chief Strategy Officer of Focus Media (China) Chen Yan
"Chinese media workers are responsible for spreading national brands and further promoting domestic products in the global market," said Chen Yan, chief strategy officer of Focus Media (China).
She also mentioned the change of the Chinese media market, such as, new media promotions and novel marketing.
"I keep emphasizing the importance of Chinese media at both Women's Davos Forum and Warsaw World Women's Summit last year," she added.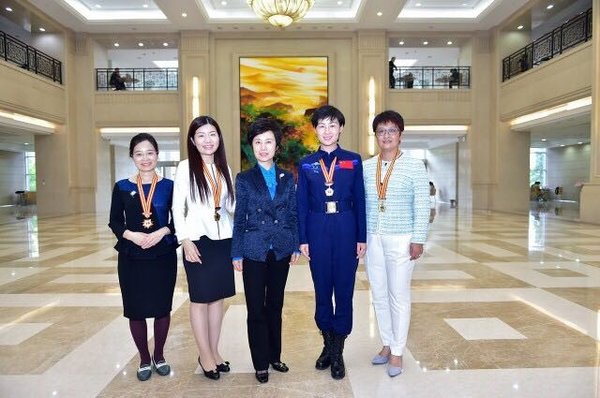 Jiao Yang (C) and four presenters [Women Voice]
Liu Yang [Women Voice]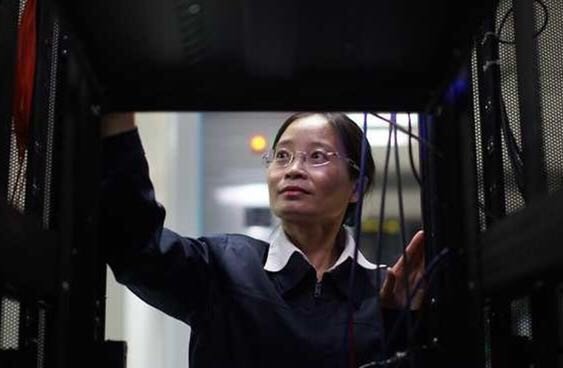 Wang Shufang [Women Voice]
Yang Hui [Women Voice]
Chen Yan [Women Voice]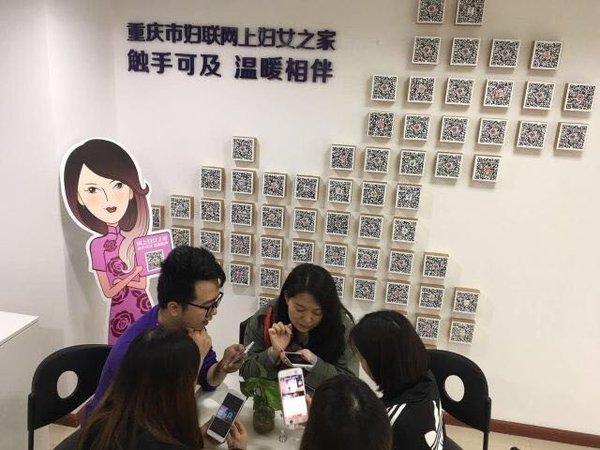 Officials from southwest China's Chongqing Women's Federation watch the live-streamed event via mobile phones. [Women Voice]
(Source: Women Voice/Translated and edited by Women of China)