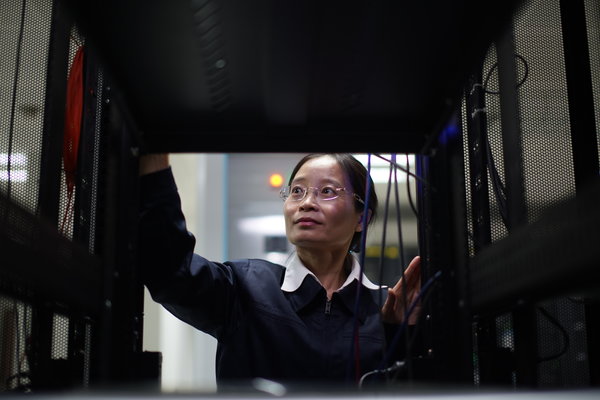 Wang Shufang [Women Voice]
A youthful communications expert from Beijing has devoted herself to the research, development and promotion of the nation's own global satellite navigation system over the past two decades.
Wang Shufang, 44, is deputy-director of the navigation center of the China Transport Telecommunications and Information Center affiliated to the Ministry of Transport.
The Beidou Navigation Satellite System (BNS), which is self-developed and independently-managed by China, has been in operation since 2000, making China the third country with an autonomous navigation satellite system after the U.S. and Russia.
The Youngest Chief Designer
In October 1994, when Wang was still an undergrad at Beihang University, a leading engineering institution in the country, she learned that the BNS project was being established and would enroll students from Beihang for its construction.
"At that time, there were only two global navigation satellite systems, America's GPS [Global Positioning System] and Russia's GLONASS [Global Navigation Satellite System]. In China, the field hadn't been explored yet," she recalled.
"So I joined in the research and development of the BNS without hesitation."
At the age of 23, she gave up an offer from a foreign company and began to take part in research concerning a BNS interface device.
However, the arduous working conditions went far beyond her expectations.
"In the early days, I didn't earn much, just 300 – 400 yuan (U.S.$ 40-60) monthly, and shared a dormitory with three colleagues. Our office was set up at a hostel, where there were only electric fans during the hot and stuffy summer days," she added.
But, being fascinated by the great appeal of such scientific work, Wang and her colleagues overcame the difficulties and worked conscientiously.
One night in the summer of 1997, her team witnessed the birth of the first BNS machine.
Wang recalled she was too excited to fall asleep that night. She drunk a little beer and slept a whole day for the first time since working on the project.
Concentrating fully, her work ability improved rapidly, and she displayed a brilliant talent among her peers.
At the age of 28, she was named chief designer of the country's satellite navigation augmentation system, the only youngster chosen by the system's project team.
At 32, with rich experience in building Beidou-1 and the navigation augmentation system, she participated in the demonstration of Beidou-2 system in an all-round way.
Dedication to Communications and Transport Industry
In 2007, Wang set her mind to transfer to the communications and transport industry.
"Back then, my leaders, family and friends couldn't understand my decision and thought I was too headstrong," she recalled.
But Wang knew that the key to the success of the initial U.S. GPS system was down to good application promotion, which stimulated development among background industrial chains.
Wang explained that China's transport industry had over 10 million operating vehicles and over 100,000 ships. "They, along with relevant fundamental facilities such as expressway, sea channels and ports are the biggest users of satellite navigation systems," she said.
In 2012, Wang led the implementation of the first Beidou-2 demonstration project.
"At first, people in the industry were relatively resistant. They thought, 'We've been using GPS for a long time and nothing went wrong. Why shall we use the new system?'" she recalled.
To deepen people's understanding, Wang organized five project coordination meetings in a year.
Once, when they held a meeting, it rained heavily in Beijing, causing flight delay. Many of the over 30 representatives from nine provinces reached the city late at night.
Wang drove to the airport and picked them up personally, her sincerity touching the visiting representatives a lot.
Under their concerted efforts, the promotion task broke all its target. More than 4 million BNS terminals were applied to the transport industry.
"On the one hand, Beidou system provides drivers with services. On the other hand, through big data analysis, it offers convenience to the transport industry's supervision and management work," she said.
Wang spoke bluntly about how her team met many difficulties when they first promoted the BNS.
To solve various problems, they went to the forefront to learn about real situations, based on which they formulated corresponding policies and management methods.
"We'll continue to enhance subsequent management after the installation of terminals, such as service management of platform service providers and terminal quality checks," she said.
"Meanwhile, we'll also incorporate data of networked control platforms and that of networked transportation service platforms and improve comprehensive analysis."
Wang was confident about the BNS's future development.
"In the future, Beidou systems will also be applied to search and rescue work in water, enterprise services and other fields to let more people enjoy its benefits," she concluded.
(Source: Economic Daily/Translated and edited by Women of China)