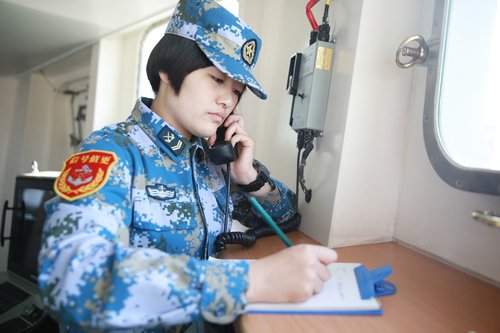 Wu Dongyan [Women Voice]
A female naval officer from northeast China's Jilin Province has dedicated her youth to her nation'saircraft-carrier development over the past seven years.
Wu Dongyan, technician and monitor of the signal team in the Communications Division of the People's Liberation Army Navy on the sea vessel Liaoning, has succeeded in completing many major tasks in her career.
"Liaoning has made my youth unique! It's my proudest choice to become one of its female crew members," said Wu.
In 2009, Wu graduated from Changchun Normal University in Changchun, capital of Jilin, where she majored in English.
At the end of that year, she joined the navy, becoming part of the nation's first batch of female soldiers serving on an aircraft carrier.
In her first days she made a pledge to "display the charm and build the image of the new generation of women soldiers."
"University graduate soldiers are sometimes thought of as 'fearing hardships' and 'not being down-to-earth,' so my target at the very beginning was to gain people's respect and trust," she said.
In August 2010, after passing various rigorous assessments, Wu boarded China's naval hospital ship Peace Ark, kicking off an 87-day maritime medical relief journey to South Africa.
Sailing for such a long time against continuous fierce wind and huge waves was the first severe challenges that she met on her life path. Meanwhile, it also tested her will and offered her an opportunity to create an impression with the rest of the crew.
"Shifting your attention can relieve the discomfort caused by working on the sea," she said, an experience that she gained on Peace Ark.
Wu actively took part in professional training and volunteered to be on duty, taking the lead in meeting the requirements for being on independent night guard.
In particular, when taking part in foreign affairs activities, her fluent English and good etiquette received recognition and praise from her leaders and guests.
After fulfilling the medical relief task in South Africa, Wu set a new target – to become a role-model crew member.
During the subsequent theory, equipment and technical training phases, she got up early and stayed up late at night every day, learning relevant knowledge and practicing professional skills such as semaphore and torch signaling.
Due to her hard work, she soon mastered the relevant skills and became a key technician.
Once, when she performed a task, she found the signal flags always got stuck, impairing her work greatly.
She led the signal team to study the problem carefully and made constant explorations, putting forward a new flag-hanging method that solved the problem.
"It's every soldier's obligation to do their own job well and fulfill tasks already set up. However, role-model crew members can't stop on this point," she said.
During the early days of Liaoning's construction, there was little experience to draw upon domestically.
Facing the reality, Wu spent her spare time translating over 300,000 words of English military materials useful for carrying out aircraft-carrier related studies.
Since joining the Navy, she has taken part in 30 test sailing tasks, been on independent night duty for over 3,600 hours and sent and received more than 6,000 telegrams, never making any mistake.
In addition, the seven soldiers under her leadership are all qualified for being on independent night duty and have been honored as role-model Communist Party of China members and outstanding naval soldiers many times.
In Wu's eyes, an individual's excellence is not strong in a real sense. "Only when everyone becomes outstanding will we become powerful," she said.
In July 2015, Wu became the first female master chief on Liaoning. In the meantime, she assumed more responsibilities and expectations.
"Every female crew member came here with an aircraft-carrier dream. We'll remain true to our original mission and do our best to make achievements for China's aircraft-carrier construction in future," she concluded.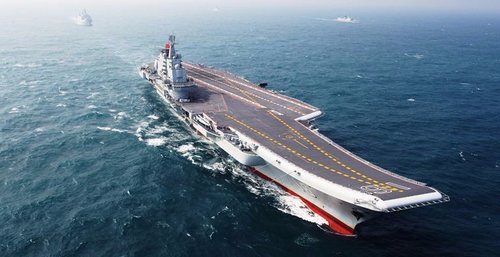 The aircraft carrier Liaoning [Women Voice]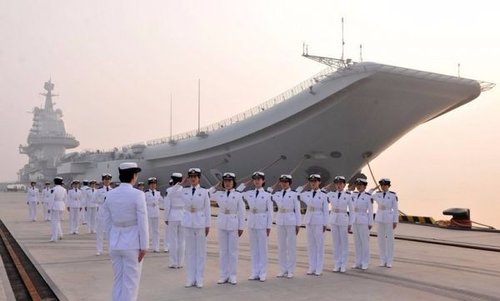 Chinese female navel soldiers [Women Voice]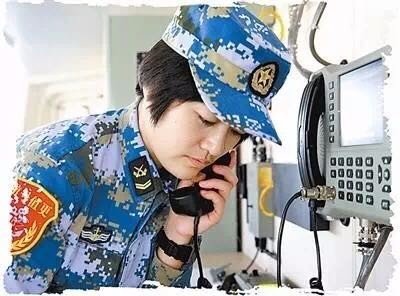 Wu Dongyan [Women Voice]
(Source: Women Voice/Translated and edited by Women of China)