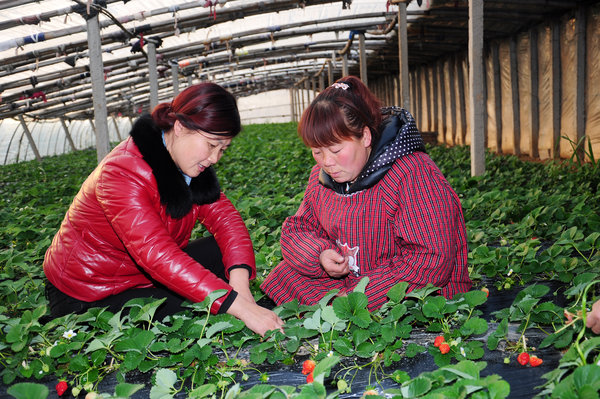 Lü Miaoxia (L1) talks with a woman in a greeenhuse. Lü Miaoxia, president of the Jingmeng Cultivation Cooperative in Luoyang, a city in central China's Henan Province, has pioneered the cultivating of off-season strawberries in greenhouses while actively bringing villagers economic benefits and helping them lead prosperous lives in the past few years. [Women Voice]
Lü Miaoxia, president of Jingmeng Cultivation Cooperative in Mengjin County, central China's Henan Province, has championed the cultivation of off-season strawberries in greenhouses whilst bringing tangible economic benefits to local villagers and helping them lead a comfortable life in the past few years.
Earlier in 1989, Lü followed her husband to leave their hometown and find employment opportunities in Beijing. Under the assistance of their relatives, the couple bought a wooden cart and began to sell fruit. Due to their good service and top quality of their fruit, their business enjoyed sound development from the very beginning.
Later, they purchased several vehicles and opened three fruit supermarkets, which helped them raise enough money to buy an apartment and continue a better life in the capital.
When she returned to her hometown in 2008 to rebuild her household, Lü noted that a lot of people there couldn't find any work to improve their lives if they chose not to leave the village. Therefore, she gave herself a mission to lead them to become prosperous with her.
After Spring Festival or Traditional Chinese New Year, which often falls in January or February each year, in 2009, Lü entrusted her business in Beijing to her husband while she went to east China's Shandong, Anhui, Zhejiang and other provinces to learn from local people's experiences as well as technologies in the cultivation of off-season fruits.
Lü tried to persuade local villagers to plant off-season fruits with her when she was back in her hometown. However, local residents didn't accept her proposal and instead some ridiculed her, since they didn't anticipate the bright future of the lucrative business. In addition, her mother also asked her to give up her ambitious plan.
Nevertheless, Lü chose to use her concrete actions and the example of her plantation to gain the trust of villagers. Against opposition from family members and the doubts of other villagers, she leased 150 mu (10 hectares) of farmland and constructed 67 greenhouses in March 2009 to cultivate her strawberries.
To her relief, the local women's federation helped her successfully get a loan of over two million yuan (U.S.$ 289,372.78), which further sped up the pace of her business.
Back then, Lü spent more than ten hours a day in her farmlands and worked with invited technicians to monitor the growth of the strawberries every day. The doubts began to fade when villagers saw her strawberries growing soundly.
In the winter of that year, Lü and her employees worked together to survive an attack of heavy snow, which inflicted huge losses upon her business.
The well-cultivated strawberries attracted a large number of customers and helped Lü make a fortune when they were ripe ahead of the Spring Festival in 2010.
After that, more and more local villagers followed Lü's suit to plant strawberries and joined her strawberry cooperative.
So far, Lü has provided more than 3,000 people with technical training in agricultural plantation, released a loan of over 400,000 yuan (U.S.$ 57,874.56) to help poverty-stricken families in their strawberry cultivation, and created 5,000 employment opportunities for local farmers. Thanks to her efforts, the life of local people is continually improving
To recognize her extraordinary achievements in combating poverty alleviation amongst rural residents in Mengjin, the All-China Women's Federation (ACWF) presented her with an award as the National March 8th Red-Banner Pacesetter at a gathering held in Beijing on March 8, along with other nine other inspiring role models.
The annual awards aim to motivate more women to proactively participate in the country's social and economic development and celebrate the arrival of International Women's Day (March 8).
Lü Miaoxia (R2) speaks with several women about how to grow strawberries. [China Women's Voice]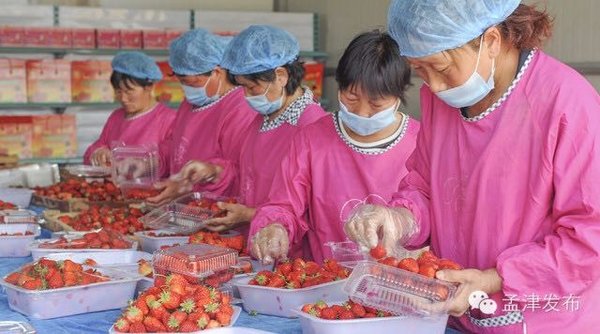 Several employees pick up fresh strawberries at a workshop. [China Women's Voice]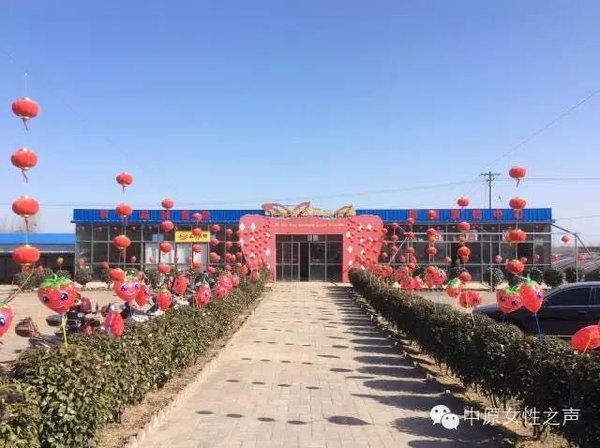 Photo shows Lü Miaoxia's plantation. [China Women's Voice]
(Source: cpc.people.com.cn/ Translated and edited by Women of China)