Along with other female role models, Gao Shuzhen (L1 in the front) receives the National March 8th Red-Banner Pacesetter award at a gathering held in Beijing on March 8. [Women Voice]
"My dream is to help all families in my village become prosperous, move into new houses and have their own private vehicles," said a winner of the National March 8th Red-Banner Pacesetter award at a gathering held in Beijing on March 8.
The remarks were made by Gao Shuzhen, who is secretary of the Party branch at Sanjianxi village near Jinan, capital city of east China's Shandong Province. She is the only woman in the province who has held the title this year.
The gathering aimed to welcome the arrival of International Women's Day, which fell on the same day, and recognize the contributions made by female inspirational role models to the country's social and economic development.
Gao returned to her hometown in 2004 and took the post of Party chief when she left school. Back then, the village was plagued with huge debts, dysfunction of the Party branch, stagnation of its public affairs, and lots of complaints from local residents.
However, Gao didn't back off in the face of such difficulties and instead committed herself to the improvement of local people's lives as well as the transformation of the village's living environment.
During the first half year of her tenure in office, Gao often visited local households, learned about the difficulties in their daily lives, and talked with them about how to transform the village for the better.
Thanks to her endeavors, the village successfully paid off its previous debts while its an annual income surpassed three million yuan (U.S.$ 433,996.38) in just three years. Meanwhile, it has attracted more than 70 enterprises, which provide local residents with a great deal of employment opportunities.
Right now, the income per capita in the village is over 10,000 yuan (U.S.$ 1,446.65). Moreover, it has completed the construction of a kindergarten, elementary school, nursing institute for the old, and other public facilities, all of which have greatly transformed its living environment and brought many conveniences to local villagers.
So far, the village has received lots of acclaim and honors for its sound development and consistent improvement of local people's livelihoods in recent years. At the same time, lots of awards and titles have gone to Gao for her outstanding performance in her daily work.
"It's the development of my hometown that provides me with a platform to showcase my competence. I am glad to see the remarkable progress here. I will strive for higher achievements in my work, guide more women to devote themselves to the promotion of local social and economic affairs, and better secure the public's interests in the future," emphasized Gao during a recent interview about her new honor.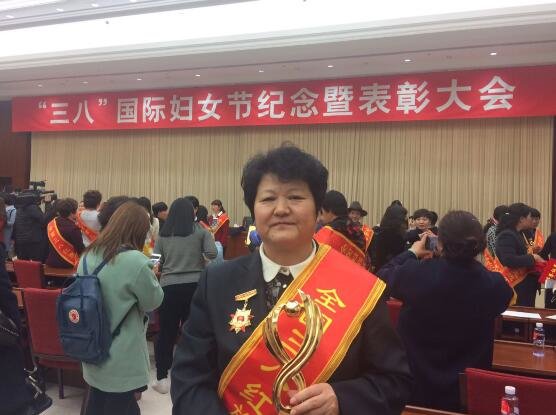 A photo of Gao Shuzhen (C) at the awards ceremony held in Beijing on March 8. [news.e23.cn]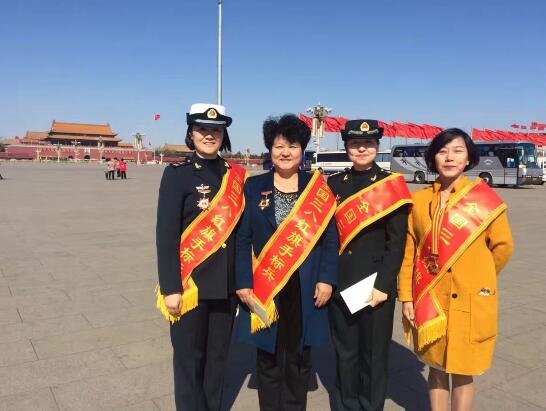 Gao Shuzhen (L2) poses for a group photo with three other female role models in Tian'anmen Square in Beijing. [news.e23.cn]
(Source: news.e23.cn/Translated and edited by Women of China)