A video report about Zou Defeng [Tencent News]
A kind-hearted medical worker from the city of Nanchang in east China's Jiangxi Province has dedicated herself to offering volunteer nursing services to local residents over the past 15 years.
Zou Defeng, 61, from the city's Xihu District, heads the Medical Service Department of the 4th Affiliated Hospital of Nanchang University and serves as chairperson of a local women's volunteer service association.
So far, Zou and her teammates have extended their volunteer services to 20 local communities, benefiting over 200,000 people.
During her decades' nursing practice, Zou realized the necessity of building a community volunteer nursing service team.
In 2002, she joined the Jiangxi Red Cross Society Nightingale Volunteer Nursing Service Center. Under her initiative, she and other medical workers at her hospital built their own volunteer team.
Since then, Zou has spent nearly all of her off-duty time on her beloved charity causes.
Each weekend, she leads her team to visit patients living in nearby communities, and to see elderly people and orphans in surrounding nursing homes.
During such visits, Zou often brings them free medicine and daily necessities purchased with her own money.
So far, she has contributed a total of 24,000 hours to helping people in need.
In the meantime, members of her team have surpassed 4,000 members. In addition to giving volunteer services, they also engage themselves in blood and organ donation, disaster relief and mental counseling, among others.
Zou's selfless deeds also exert a positive influence on her family members.
Her daughter has joined her volunteer activities since attending her senior high school. After finding a job, the child has even given her mother a portion of her pocket money each year to support her efforts.
In July 2007, both Zou and her daughter signed an organ donation agreement. Inspired by them, another over 70 people made the same decision.
Zou Defeng (C), director of the Medical Service Division of the 4th Affiliated Hospital of Nanchang University in east China's Jiangxi Province, has dedicated herself to providing voluntary services for the people in need for 14 years. [Women Voice]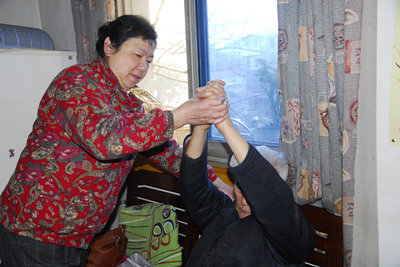 Zou Defeng gives gudiance on exercise of an elderly people. [People's Daily]
Zou Defeng offers volunteer medical service in a local community. [People's Daily]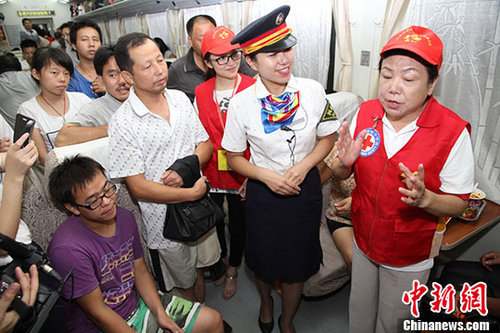 Zou Defeng talks about first aid knowledge on a train. [China News Service]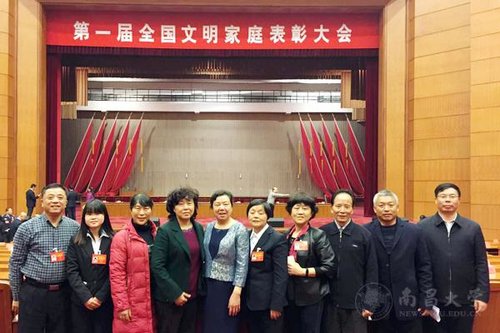 Zou Defeng (L5) at the awarding ceremony of the 1st National Civilized Families Award on December 12, 2016 in Beijing [Nanchang University]
(Source: cpc.people.com.cn/Translated and edited by Women of China)