A video report of Wu Yaqin's stories [paper.ce.cn]
A grassroots official from Changchun, capital of northeast China's Jilin Province, has dedicated herself to safeguarding the rights and interests of residents in her community for the past 20 years.
Wu Yaqin is secretary of the Communist Party of China (CPC) Changshan Garden Community Committee in the city's Kuncheng District.
Due to her earnest dedication, many problems concerning the underprivileged people in the community have been solved.
Safeguarding Residents' Rights and Interests
Most of the residents in Wu's community are laid-off workers dismissed and retired from the same bankrupt enterprise as Wu.
There remained many unsolved problems between the state-owned enterprise and its former staff, such as unpaid income, medical insurance, pensions and severance packages.
In March 2007, over 1,500 of them gathered outside the threshold of the community, preparing to go to the provincial authorities and appeal for help.
Learning of this, Wu reached the site and said: "I feel as painful as you that our enterprise has gone. It's understandable you want to solve these problems, but you don't need to skip grades. If you trust me, you can report your problems to me."
Since then, Wu embarked on a long journey of safeguarding residents' rights. She organized meetings participated in by their community's Party members and resident representatives to discuss relevant solutions.
Moreover, she established a problem-reporting group, which got residents' problems sorted, by featuring them on written materials and submitting these materials to relevant departments as per procedure.
After five years of hard struggles, residents' problems were finally solved.
In addition, Wu set up the "People Speak" site, providing residents with a platform where they can express their needs and present suggestions.
Meanwhile, she also founded a legal service station especially for women and children to protect their legal rights and interests.
Promoting Employment
To solve the severe unemployment problem confronting laid-off residents in the community, Wu led social workers to hold technical training sessions for them, equipping them with skills such as marketing, cooking, massage, machine repair and domestic service.
Wu also built a long-term partnership with local business owners, recommending residents to their companies.
Moreover, taking advantage of the country's favorable employment policies, Wu helped many laid-off residents apply for subsidized microcredit.
So far, she has helped over 800 residents achieve employment and more than 100 start their own business.
Serving Senior Citizens and Youngsters
Many elderly people in Wu's community are living on their own, giving rise to a serious old age issue.
To tackle this problem, Wu has explored many innovative old-age services, such as setting up an elderly people's service center, the Ten-minute Distance Old-age Assistance Service and installing electronic emergency-reporting equipment in the homes of 65 elderly residents.
In 2013, Wu established a volunteer service center, where social workers and undergraduate volunteers would offer free nursing services to impoverished children after they left school.
This year, under the support of the municipal and district women's federations, she built an early education center in her community to further boost the healthy growth of juveniles.
Enriching Residents' Cultural Lives
Wu believes that it is not enough to help residents achieve material affluence. She also wants them to prosper spiritually.
Therefore, she led them to establish eight mass clubs as per residents' hobbies, such as a table tennis association, a calligraphy and painting association and a community art troupe.
Moreover, a variety of performing teams have been formed, including a folk music team and varied dance teams.
These clubs and teams often hold varied cultural and artistic performances and competitions during festivals while giving lectures and exhibitions of their days off to spread knowledge around health, safety, law, science, fitness and morality. Over 2,000 people participate in these activities annually.
Moreover, the community has held a unique cultural festival and sports meetings since 1999, as well as playing open-air films to enrich people's lives.
Wu Yaqin [paper.ce.cn]
Wu Yaqin (L) hands out relief fund to a child. [jl.gov.cn]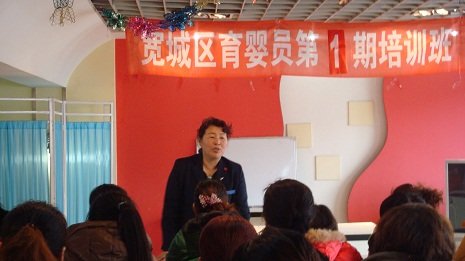 Wu Yaqin speaks at a child nursing training session. [jl.gov.cn]
Wu Yaqin (L1) at work [jl.chinanews.com]
Wu Yaqin (L) distributes a pair of glasses to an elderly people in her community. [news.163.com]
(Source: CCTV/Translated and edited by Women of China)