Fu Ying answers a question on employment discrimination. [Tencent Video]
Fu Ying, a spokesperson for the fifth session of the 12th National People's Congress (NPC), recently answered questions about the agenda of the meeting and relevant work of the group during a press conference on March 4.
Many of the questions put to Fu related to issues of general concern to the public, such as the Universal Two-child Policy and food safety. Other topics of inquiry included the measures taken to address smog, as asked by a domestic reporter, and the country's military budget, as put forward by a crew from CNN.
Fu never evaded a question however sharp it was and tackled them smartly, several commentators observed.
2nd Child Policy: China's Laws and Regulations Prohibit Employment Discrimination
Q: Since the second child policy was implemented on January 1, 2016, many Chinese women have been facing employment discrimination and maternity leave problems. How do you look at these issues?
"The nationwide implementation of the second child policy has produced a good result over the past year," Fu said.
"It has been widely recognized and supported by society. Meanwhile, in the implementation process we have seen some new problems, including employment discrimination against women as you mentioned.
"It is important for people to change their mindset, and respect women's employment rights. We need to be aware that women and children are the future of our country.
"As we talk about this issue, we have also realized that relevant policies and services need to be upgraded, for example, the providing of adequate maternity checkups and childcare.
"Therefore, both public resources and social resources need to be upgraded quickly to meet the new needs."
Fu recalled that, once, a male interviewer rejected an outstanding female candidate because his company had so few staff. If a female employee took pregnancy leave for two children successively, corporate benefits would be affected, according to his reasoning.
"But he also admitted that, if his wife or daughter suffered this kind of discrimination when finding jobs, he would also feel quite depressed and upset," Fu added.
"China's laws and regulations prohibit employment discrimination. Our policies pay great attention to women and child's rights and interest."
Fu's answer sparked numerous comments among netizens. "I like Fu Ying very much. She's clever, wise and beautiful!" wrote one. "Give a 'like' for Fu's witty remarks!" commented another.
Smog: Pollution Control Has Achieved Some Effects But Has Yet to Meet Public Expectations
"A lot has been done and much progress has been made in pollution control, but it still falls short of people's expectations," Fu said.
"Things are particularly bad in winter. So we should continue doing what we can to treat air pollution and to keep things moving forward positively.
"Besides, some parts of the country also face serious water and soil pollution. The NPC Standing Committee is revising the law on water pollution treatment and control, and is making relevant laws on the treatment and control of soil pollution."
Defense Budget: China Has Never Caused Injury to Any Nation
"Many conflicts and wars have broken out over the past decade or more, but none of them was waged by China," Fu said.
"As for the disputes of territorial sovereignty and maritime rights and interests between China and surrounding countries, we ask them to be peacefully solved through dialogue.
"Meanwhile, we need to have the capability to defend our sovereignty and rights and interests. Particularly as you have noticed, we indeed have to prevent external powers from intervening in these disputes.
"Whether armies pose threats to each other and whether vigilance should be held depends mainly on their strategic intentions. This is a key problem that should be discussed seriously. In other words, whether they pursue common security or exclusive security.
"China's idea proposed by President Xi Jinping is to maintain common security. This is also the common understanding among many other Asian countries."
General Provisions of Civil Law: A Basic Civil Law of the Nation
"The General Provisions of Civil Law regulate basic principles and general rules concerning civil activities. Any changes need to be submitted to the NPC for deliberation," said the spokesperson.
"With regard to issues related to rural 'left-behind' children [those whose parents have left them at home to seek jobs in other cities] and the tendency of an ageing population, the law has made further improvements in guardianship systems, paying particular attention to the protection of senior citizens unable to care for themselves."
When responding to the question of whether "the minimum age for minors who have limited capacity for civil conduct will be lowered to 6," Fu said: "It's still under discussion whether the age will be changed to 6 or 10 and which age is better for the protection and healthy development of juveniles."
China-U.S. Relations: Hoping Int'l Media Pays More Attention to New Stories about China
"China-U.S. cooperation is the mainstream. We have seen much contact between the top leaders of both sides," she said.
"Chinese President Xi Jinping and U.S. President Donald Trump have talked on the phone twice, sending a clear message that China and the U.S. should have more cooperation and become good partners.
"I think U.S. society in general knows little about China. During this recent American election, every candidate mentioned China in their speeches, but the stories told by them were either old or untrue.
"We should put more effort into making ourselves known to the international society, and the U.S. society. Meanwhile, we hope that international media coming to report our two sessions can pay more attention to new stories about China."
Fu Ying's Diplomatic Career
Fu, 64, a five-time NPC spokesperson, is the nation's first female press spokesperson.
In 1998, Fu was dispatched to the Philippines, becoming the first female ethnic ambassador of China, as well as the country's youngest female ambassador at that time.
From 2003-2006, Fu served as ambassador to Australia. Philip Ruddock, former attorney-general for Australia, once praised her by saying: "She ranks No. 1 among the more than 1,000 ambassadors across the world I have seen during my political career. She does the best in representing China and safeguarding its benefits. Besides, she is the most influential and has the biggest charm."
In 2007, she became ambassador to the UK. Whilst in office, she helped ease tension between the two countries many times.
In 2009, Fu was awarded the title of Asian Diplomat of the Year by the Diplomat Magazine.
In addition to her political role, Fu is also chief expert of the National Institute of International Strategy, Chinese Academy of Social Sciences.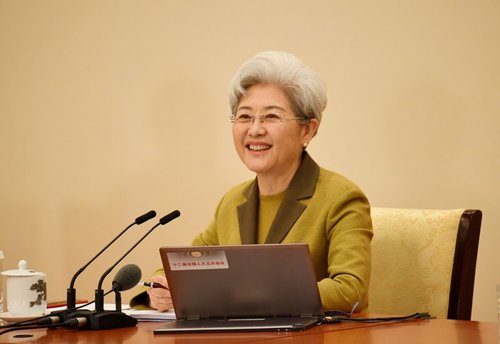 Fu Ying speaks at the press conference. [Women Voice]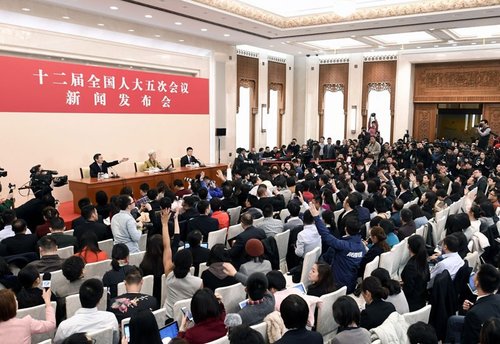 Fu Ying (back, C) answers questions at the press conference. [Women Voice]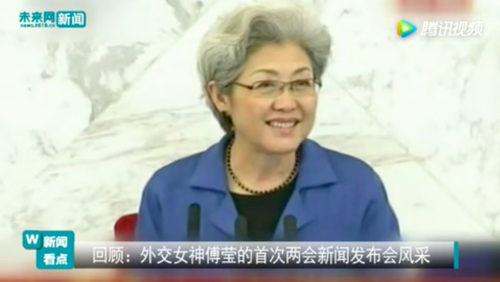 File photo of Fu Ying at a former press conference of China's two sessions. [Women Voice]
File photo of Fu Ying as a Chinese ambassador [Women Voice]
File photo of Fu Ying [Women Voice]
File photo of Fu Ying [Women Voice]
File photo of Fu Ying (back, R) as an interpretor of Chinese leader Deng Xiaoping [Women Voice]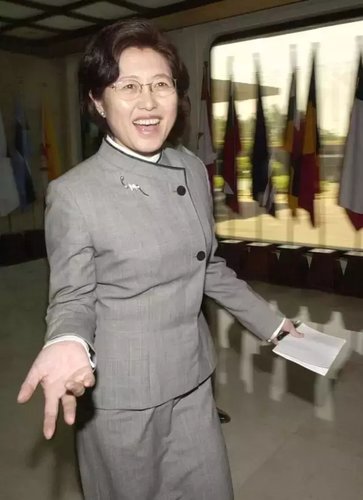 File photo of Fu Ying [Women Voice]
File photo of Fu Ying [Women Voice]
File photo of Fu Ying [Women Voice]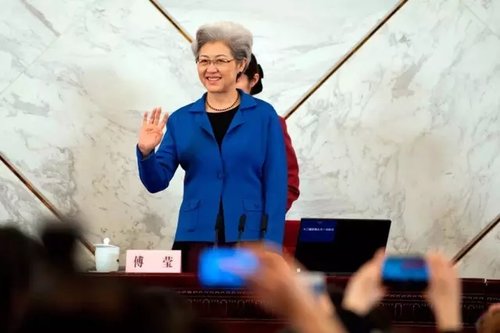 File photo of Fu Ying [Women Voice]
(Source: Women Voice/Translated and edited by Women of China)