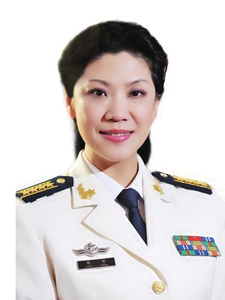 Liang Fang [China Women's News]
Liang Fang, 50, with the Department of Strategic Studies of the National Defense University (NDU) of the Chinese People's Liberation Army (PLA), has been devoted to research and teaching activities concerning national security and military strategies.
As a senior colonel, professor and the only female leader in discipline construction and academic research of the NDU, Liang has made several breakthroughs: She received her master's degree in the science of navy strategy, the first in the Chinese PLA; she is the first female mentor of the Chinese PLA to have received a master's degree in science of military strategy; and she is among the first batch of Chinese publicity experts of the Chinese PLA.
Born into a military family and growing up on a military base, Liang has always held and shown concern for China's national defense. After graduating from a military institute, she became a researcher at a navy institution and had a stable income and a well-off life. Never complacent, she went on to pursue further studies, obtaining a master's degree from the NDU; and after graduating, she chose to be a teacher at the university.
Over the past 10 consecutive years, Liang has launched research projects and investigations in naval fleets across the country. During an investigation in northwest China's Xinjiang Uyghur Autonomous Region, she was moved to tears by the feat that Chinese astronauts were able to accomplish and was inspired and motivated to work even harder. During an investigation carried out in Xishan Islands, she developed a deeper understanding of Chinese ocean territory and wrote two reports on the subject. While visiting the National Defense University in the Republic of Korea, she answered the university president's sensitive questions calmly and tactfully.
In her daily work, Liang shoulders the same teaching and science research responsibilities as her male colleagues and plays a leading role as an outstanding teacher. She spends most of her time on her work and makes her research projects the focal point of her life.
To prepare for her course on military strategies — the highest-level course in China's military institutes and the most important course of the NDU — Liang conducted numerous investigations in military bases and then spent countless hours in the classroom alone. After grinding through the difficulties and hardships of becoming an expert in her field, she began giving lectures on military strategies to provincial and minister-level leaders and military commanders. The nine courses, which include research on China's naval strategic problems and on strategic thinking about China's navy going to the open sea, have earned widespread acclaim among her students for her profound theories, broad vision, specific ideas and stimulating interpretations. Former president of the NDU Song Puxuan also thought highly of her after attending one of her lectures: "As a backbone of teaching and a major member of China's media publicity, you have given an outstanding lecture. The applause that the students gave you is the top affirmation and encouragement."
In recent years, Liang has given more than 100 lectures in military bases and CPC (the Communist Party of China) and government organs in the country, to a total of about 100,000 students. Furthermore, she also works as a special military correspondent in various programs on China Central Television (CCTV), Beijing Television and other stations.
Over the past 10 years, Liang has also made significant achievements in her scientific research projects. For example, she has published nine scholarly books and five textbooks, of which On Maritime Strategic Access is the only one of this field in China and won her an award in her university. Furthermore, she has won several other outstanding awards with her books and academic papers.
Currently serving as deputy secretary general of the Military Oceanography Specialized Committee under the Chinese Society for Oceanography, Liang has presided over the annual military oceanographic meeting for consecutive years, during which she has delivered memorable, compelling speeches on China's ocean strategies and on the East China Sea problems. She has also participated in the research, drafting and implementing of China's ocean and naval strategies and on them wrote strategic advisory reports, contributing significantly to China's naval strategy and to the development of China's navy.