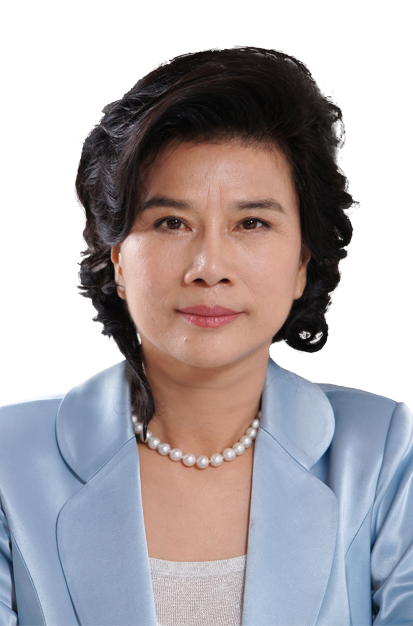 Dong Mingzhu [Women of China]
Dong Mingzhu is board chairperson and president of Gree Electric Appliances, Inc. of Zhuhai in south China's Guangdong Province. Dong, 60, has won both the National Labor Day Award and the March 8 Red Banner Pacesetter Award, an honor bestowed by the All-China Women's Federation (ACWF) upon exemplary workers who have made extraordinary achievements. She was elected as the Deputy of the 12th National People's Congress.
Immediately after graduating from a cadre education college in eastern China, Dong went to live and work in Nanjing, capital of east China's Jiangsu Province.
Dong joined Gree in 1990 as a salesperson and jumped to sales director within five years. She became the company's president in 2001.
Dong has successfully transformed Gree from a run-of-the-mill domestic brand into the world's largest air-conditioner manufacturer based on sales, with an operating revenue of over 125 billion yuan (U.S. $19.8 billion) in 2013.
However, Dong does not place too much of an emphasis on growth, "Growth is a result; what's more important is the building of enterprise culture. If we don't have a good corporate culture, this growth period will be very brief," said Dong.
And her ambitious target is for Gree to match its China-wide performance abroad and to capture some 35 percent of the overseas market within the next decade — a feat that will require it to almost triple its current overseas sales of 7 million units per year.
After years of trying, only a handful of Chinese brands have won recognition overseas. Nevertheless it would be wise not to underestimate the ambition, drive — even ruthlessness — of Dong Mingzhu.
"It is a golden opportunity for overseas customers to recognize that they can pay less for the best-quality machines." Under Dong's leadership, Gree Electric Appliances Inc. has grown into the world's largest residential air-conditioner manufacturer.
She was one of the Top 50 Businesswomen in 2004 and was also named one of the World's Most Influential Businesswomen of Chinese Origin. China Central Television (CCTV) honored her in 2006 as the Economic Person of the Year.
Dong's success is rooted in her exceptional vision as an entrepreneur. She has always paid significant attention to technological innovation. Under her leadership, Gree Electric Appliances was awarded the second prize of "Enterprise Technology Innovation Engineering" for its Independent Innovation Engineering System Construction project in 2014. The "China National Science & Technology Progress Award" is one of the five national science and technology awards set up by the State Council and is for recognizing the Chinese citizens and organizations that make outstanding contributions in technological study, technological development, technological innovation, promotion and application of advanced technological achievement, improvement of high and new technology industrialization, and accomplishment of significant science and technology engineering and projects.
Dong was also ranked the most powerful woman in business in China, as shown on Fortune China's list of the 25 most powerful Chinese businesswomen, released on November 14, 2014.
In addition to her excellent business talents, Dong is also enthusiastic about public charity causes; and under her influence, Gree has shown a strong sense of corporate social responsibility. With Dong's influence, Gree has donated money and other living necessities accounting for altogether more than 100 million yuan (U.S. $15.99 million) to many underprivileged people in China over the past 20 years.