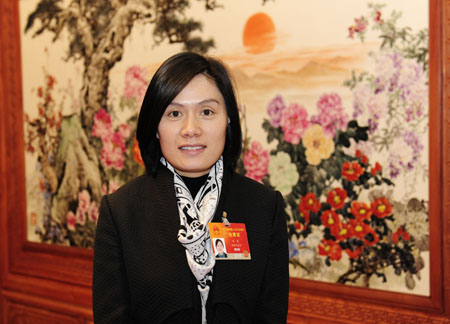 Liu Li [People.cn]
"I'm not highly educated; however, I must speak for the migrant workers now that I stand here," says Liu Li.
As the first migrant worker to become the National People's Congress (NPC) deputy of Anhui Province, located in central China, Liu has been awarded as a "Touching China" figure, a National Inspirational Model of Humanitarianism and a recipient of China's Youth Award.
Having dropped out after primary school, Liu earns a slender income as a foot masseuse. However, she has been working to support hundreds of impoverished children to continue their studies. Now, she looks ahead to working hard and playing an important role as an NPC deputy, for the common good of the people.
Pertinent Proposals
Making her debut in her position during the NPC's two sessions in 2013, Liu gave a speech on the fact that migrant workers are forming temporary couples, a phenomenon that is caused by the separation of migrant worker couples and one that has attracted significant attention. To eliminate this problem, she suggested softening the standard criteria for indemnificatory housing — government-owned housing projects designed to assist low-income families — in urban areas and relieving the territorial restrictions on social security, approved by many experts and scholars.
In 2014, Liu's proposal to revise China's Trade Union Law gained more momentum, urging trade unions to increase measures protecting the rights and interests of workers and helping them to protect against illegal layoff of worker representatives after they openly express their appeals on behalf of many other workers. Another suggestion she put forth in a proposed revision of the Labor Contract Law focused mainly on migrant workers' payment, whereby employers are required to pay a 25 percent compensation fund if they intentionally delay the payment and compensate any financial losses or — of their workers — caused by arbitration. In light of the fact that these measures are not only practical but also effective in protecting workers' legal rights and interests, Ministry of Human Resources and Social Security (HRSS) supported her proposal and conveyed her ideas to the legislature.
"When I first became the deputy [of Anhui Province], there were many issues I wasn't well versed with and found it difficult to make proposals," said Liu, "so I suggested that training provided for grassroots-level deputies like me should be strengthened." Over the past two years, Liu has read a great number of books and has seized all possible opportunities to study and learn from experts and scholars. Meanwhile, she has also taken part in the special training sessions held by the NPC. "With improved ability and skills, I'll be able to make the voice of migrant workers heard."
Bridge Between Migrant Workers and Government
When discussing her understanding of an NPC deputy's role, Liu expressed that now the quality of life of migrant workers matters much more than her own personal life. "The NPC deputy represents a group of people, reflecting people's voice and resolving their difficulties," Liu said.
To gather the stories, views, opinions and complaints of migrant workers, Liu investigated and carried out research in factories and communities across the region. Last year, she led a microblog campaign whereby she invited suggestions from netizens and engaged with them in online interaction. With more than 23,000 followers on Weibo (the Chinese version of Twitter), she now finds it much easier to connect to migrant workers.
Recently, Liu established a group on WeChat (the Chinese version of WhatsApp) to collect suggestions for the upcoming "two sessions" in 2015. The members in the group include common migrant workers as well as scholars, legal experts and activists for public welfare. Liu often requests their advice on her proposals and exchanges ideas with them.
2015 Proposals
In the upcoming session of the NPC in 2015, Liu's proposal plans to reduce workers' time and cost in claiming back salaries by further revising the Labor Contract Law. Now she is consulting lawyers, experts and migrant workers.
In addition, Liu also wants to enhance education for the children of migrant workers and is working hard researching in this field. On February 9, 2015, Liu organized a group of people to help 50 impoverished students as part of a new year's activity.
Last year, Liu founded a charity in Xiamen, a coastal city in southeast China's Fujian Province. To financially support her charity project, she also founded a foot bath club in her hometown of Hefei, capital of Anhui Province. She was glad to have a team with her.
"I have limited power and mainly play the role of a bridge. I wish more impoverished children could receive education and not have to suffer through the same experiences as I did," Liu said.
(Source: People.cn/Translated and edited by Women of China)