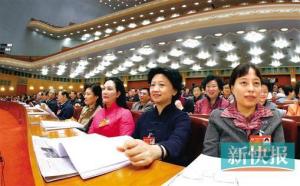 Female deputies to the 12th National People's Congress (NPC) [News Express]
Female deputies to the second session of the 12th National People's Congress (NPC) express their different feelings at this year's "two sessions."
Li Yaping: Two Sessions Are Platforms to Perform Duties
"As a scientific and technological worker, I definitely put forward my ideas on technological innovation, but I also focused on issues related to people's livelihood and overall quality of the nation, because the 'two sessions' are platforms to perform deputies' duties," said Li Yaping, a deputy from central China's Henan Province.
Li, 50, graduated from Xi'an Jiaotong University and was the first person to take on the role of chair in an International Electro-technical Commission (IEC) Technical Committees (TC) on behalf of China. Li also won the 2012 Thomas A. Edison Award for her exceptional achievements in the management of IEC standardization and conformity assessment activities.
Li Mingzhen: A Bit "Distracted" for the First Time at the "Two Sessions"
"I felt a little distracted for the first time at the 'two sessions,' because my 18-year-old daughter is attending an artistic entrance examination for a music-related major," said Li Mingzhen, a press liaison for this year's "two sessions" from Henan Province. According to Chinese rules, all students who intend to pursue art-related majors in universities must attend artistic examinations held ahead of the national college entrance exam.
"But my daughter comforted me by telling me that she has grown up, and could take care of her own business," Li added.
Li said she kept her cellphone unblocked around the clock during the two sessions, and she has answered dozens of calls from domestic and foreign journalists who hoped to cover stories about her role as a deputy to the second session of the 12th NPC.
Li was also responsible for delivering relevant materials to journalists, and sending notices to their cell-phones in a timely fashion. After the reports were released, Li was also required to give feedback to the reporters.
Wang Xin: Focus on Migrant Workers' Needs
"I am the spokesperson for millions of Chinese migrant workers, and have called for more focus to be placed on their livelihoods. In addition to this, I have also seized this opportunity to get in touch with more entrepreneurs to contribute to our efforts to help more rural children receive education," said Wang Xin, president of a technology company and a deputy from south China's Guangdong Province.
Wang said she also came up with the two "happy objectives" at the 2013 NPC. According to her, she could feel the pressure overwhelming many migrant workers because her father died when she only 7 years old, and she migrated to cities for work at the age of 16.
(Source: Dahe News/Translated by womenofchina.cn)