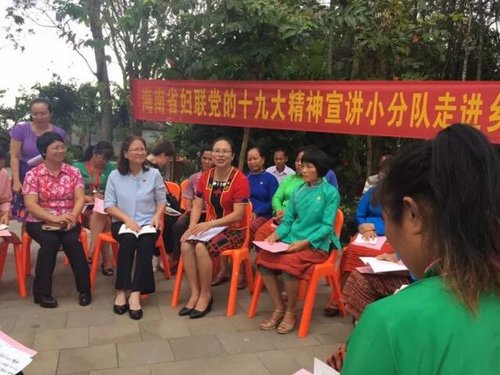 Huang Liping shares the thoughts and spirits of the key Party meeting with local women. [Women Voice]
Women delegates to the 19th National Congress of the Communist Party of China (CPC) from south China's Hainan province recently carried out multiple activities to spread the thoughts and spirits of the key Party meeting across the region.
Huang Liping, Party branch secretary at the local village of Wuxing, organized residents to establish cooperatives for chicken farming, porcupine breeding and Li ethnic group-style brocade knitting. Such activities have helped locals increase their incomes dramatically.
Huang shared her feelings and thoughts about the spirit of the 19th National Congress of the CPC using the Li language in fields, courtyards and classrooms. The familiar local accent made grass-roots Party members more willing to learn about the topic.
"We not only need to inherit Li brocade knitting skills, but also think actively to innovate and create more outstanding brocades featuring the Li culture and contemporary spirits," said Huang.
Distinctive 'Skyline Promotion Squad'
In order to help more people grasp the Congress spirit, Hainan Women's Federation (HWF) established a squad led by its president Fu Caixiang.
The team's first stop was Wuxing village. The team adopted an interesting performance to win applause and laughter from local villagers, which greatly enhanced their comprehension of the report released at the Party Congress.
The squad also set up an award-winning quiz session to motivate villagers and promote their understanding of grass-roots women's federations through interaction.
There are many other female delegates who also performed well at their own posts and actively promulgated the Congress spirit.
Wang Jinhua: Helmswoman Escorts Children Go to School
Wang Jinhua, a teacher from Fanda primary school at Lanyang town, Hainan, held fast to the rural school for 40 years. During her entire teaching career, not a single student dropped out of school.
Fanda primary school is near to Songtao reservoir. The road there is flooded every rainy season. Therefore, Wang uses a bamboo raft, wooden boat or chartered ferry over the years to pick up students to school and send them home.
"The report of the 19th CPC National Congress stresses that we should prioritize education, improve educational equity, and promote coordinated development of rural and urban compulsory education. It also stressed the importance of preschool, special needs and online education," said Wang.
She also added that strong education consolidates the great rejuvenation of the Chinese nation. She is happy to contribute her share as an ordinary teacher.
Chen Tao: Academic 'Superwoman'
Chen Tao is a deputy director of Hunan provincial people's hospital and a delegate to the 19th CPC National Congress. She has the ready smile and elegant manner of a researcher.
Besides her own work, Chen also accepts invitations to spread the Congress spirit among her workmates and other researchers.
She introduced Xi's report from the following angles: value new achievements, identify new directions, shoulder new missions, conform to new thoughts, walk a new journey and challenge new tasks.
(Source: Women Voice/ Translated and edited by Women of China)