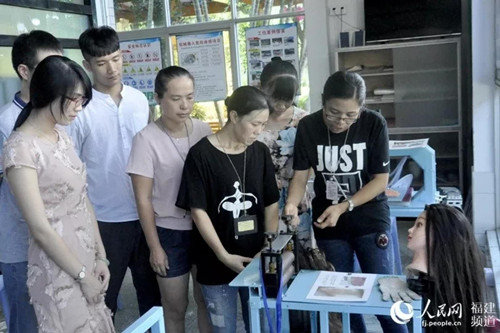 Weng Yuzhen (R) instructs workers to use a machine. [fj.people.com.cn]
Weng Yuzhen, a technical worker from the city of Putian, southeast China's Fujian Province, recently shared her understanding of the spirit of the 19th National Congress of the Communist Party of China (CPC) at a local activity.
"As a Party member at the primary level, I am honored to listen to the report delivered by President Xi Jinping at the CPC congress. I will transform my excitement into power and inspire those around me as well as make new progress at my post," Weng said.
Weng is a workshop manager in a shoes factory. Over the years, due to her diligence and hard work, she has risen from an ordinary migrant worker to an outstanding skilled worker, winning many honorary titles including the National Excellent Migrant Worker and Fujian's May 1st Labor Medal.
Weng began working in the factory in 2002 and she knew nothing about making shoes at that time. As an apprentice, Weng determined to work hard to learn about shoe-making techniques as international brands called for high craftsmanship and quality.
Weng diligently completed her work every day and took part in making new types of shoes in advance. When finding problems in the process of making shoes, Weng always solved them immediately and ensured each new type of shoes was produced smoothly.
When her colleagues were off duty, Weng stayed in the workshop to think about how to improve productivity. Although Weng only had senior high school education, she soon mastered the skills of operating equipment and since became a key technical worker.
After a year, Weng was chosen to be an assistant in the export department of the company thanks to her excellent performance at work. In 2010, she was promoted to production manager. Four years later, she was promoted to workshop manager who was put in charge of 300 workers. Despite the fact that Weng was promoted multiple times, she still shows great passion for learning and uses her spare time to improve herself.
In recent years, Weng's workshop has won great praise from customers for their high quality shoes. To date, her workshop has produced over 3 million pairs of shoes, with an income of more than 390 million yuan (U.S.$ 59 million).
Weng also repeatedly explained how to deal with emergency cases to workers, which has become a daily routine for her.
As many workers are young and from other places, Weng arranged for experienced workers to help them and encouraged young staff to bring forth new ideas at work. If a worker's idea was adopted, the company would give him or her a corresponding award, Weng said.
Weng always gives a helping hand when workers have problems in their daily lives. For instance, she cooked chicken soup for a worker who underwent surgery and brought clothes and food from her home to two impoverished women workers.
Weng's sincerity has won workers' trust and the personnel of her workshop is very steady. Some veteran workers have even introduced new staff to the factory. Accordingly, Weng trains over 50 skilled workers every year for the company.
(Source: workercn.cn/Translated and edited by Women of China)