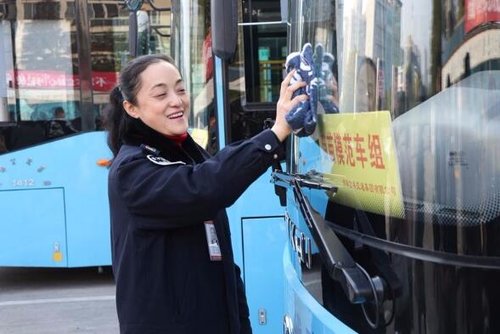 Driver Yang Miaomiao, in Bengbu, Anhui province, a delegate to the 19th CPC National Congress, cleans her bus in November. [China Daily]
After the 19th National Congress of the Communist Party of China, Yang Miaomiao returned to her position as a bus driver in Bengbu, Anhui province.
Since then, apart from carrying out her duties as a driver, the 41-year-old has been invited by several provincial and city governments and local communities to share her work experiences during the past 23 years, as well as her understanding of the spirit of the 19th CPC National Congress in October.
"Bus drivers are often considered as a window through which people see a city, and Yang is the best representative of Bengbu's 1,653 bus drivers," said Sa Ning, president of Bengbu Bus Group.
Since starting as a bus driver in 1994, Yang has driven more than 1 million kilometers without an accident and has not received one complaint from a passenger, which is something most of bus drivers could not achieve, Sa said.
Her colleagues said Yang's best quality is not her scrupulous adherence to security but how considerate she is of the passengers.
She even goes to great efforts to keep her bus clean.
"The bus is like my home, and I want the passengers to enjoy riding in a clean bus rather than a messy one," she said.
Yang took the initiative to start providing umbrellas and first-aid kits on her bus a long time ago. The bus company followed her example and made such items available on all its buses.
One disappointing experience was when Yang told a female passenger she had failed to pay her fare using her bus card, but the passenger did not believe her. Yang suggested the woman try the card again, "if the payment had succeeded, it wouldn't have been possible to use the card again within five minutes", Yang said.
She was proved right, and the woman flew into a rage and hit Yang. When the other passengers suggested calling the police, Yang calmed them down and the woman got off the bus. "When justice is on your side, just give the person in the wrong the chance to regret their behavior and correct it," she said.
Using Yang as an example, Bengbu Bus Group formulated its "Miaomiao" service standards in 2009, to improve the service offered by all its drivers.
Sa said the company needed a real example for the other drivers to show the areas they can improve and how they can do it.
"General Secretary Xi Jinping said in his report to the 19th CPC National Congress, 'Never forget why you started, and you can accomplish your mission'," Yang said in a speech at the Anhui Federation of Trade Unions on November 3.
(Source: China Daily)