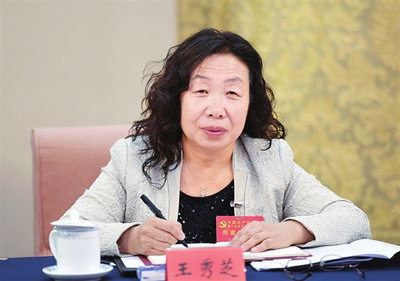 [mzlnews.com.cn]
A scientific and technical worker from north China's Inner Mongolia Autonomous Region has dedicated herself to cultivating and promoting improved chili pepper seedlings among local farmers over the past three decades.
Wang Xiuzhi is director of the Institute of Vegetable, Academy of Agricultural and Animal Husbandry Sciences in the city of Chifeng.
As a delegate, Wang attended the 19th National Congress of the Communist Party of China (CPC) from October 18-24 in Beijing.
"I was inspired by the report to the 19th CPC National Congress as it put forward an initiative to accelerate the building of an innovation-oriented country and highlights that innovation is the first power to lead development. This deeply impressed scientific and technical workers," Wang said.
Upon returning from the capital, she resumed her specialist work once more.
"I will publicize the spirit of the Party Congress among my colleagues and in every corner of the village, whilst practicing the spirit according to the reality of my work," she added.
"I will also strengthen independent innovation and speed up my pace of cultivating, introducing and promoting improved varieties to turn research results into real production power."
With an ambient temperature of over 30 degrees Celsius and a fixed humidity to encourage the normal growth of plants, the greenhouse where Wang works is as damp and hot as a sauna.
Although staying there for seven to eight hours a day, the 53-year-old expert said she has long since become used to it.
"Now, the conditions are much better. In the past, the roofs of our greenhouses were all under 1.5 meters, and I had to bend my head for work all day long," she said.
To date, Wang has engaged in chili pepper cultivation for 30 years. In her eyes, the breeding greenhouse of their academy has become her another home.
"From each March, we go to greenhouses three or four times every week. In June and July when pepper's pollination period comes, we stay in there almost every day," she said.
During the pollination period, Wang and their research team work in the greenhouse from 7 a.m. to 5 p.m. When leaving, their clothes are soaked with sweat.
The time around the Chinese Lunar New Year is a critical period for cultivating pepper seedlings. In particular, before their academy promoted factory breeding, Wang went to the cultivation base in the village every day.
Whilst other Chinese people were making special purchases for Spring Festival, she was supervising seedling breeding greenhouse-to-greenhouse.
Sometimes, when farmers face problems during Wang's days off, she reaches them as quickly as she can, doing her best to help them solve their difficulties.
In 2007 during the Lantern Festival (a traditional festival celebrated on the fifteenth day of the first lunar month), Chifeng was struck by a heavy snowfall along with strong wind and a sharp drop in temperatures, which had not been seen for half a century.
To prevent the 1.1 million pepper seedlings of local farmers from being frozen to death, Wang rushed everywhere against the severe weather to buy heating facilities.
As stores had long closed due to the festival, she had to call their owners as per the contact information posted on their door one by one.
When returning to the breeding base, it was already 7 p.m., and the road to the greenhouses was covered with thick snow.
Wang and her colleagues had to walk in knee-high snow between their cars and greenhouses over 10 times to carry all the equipment indoors.
"At that time, all that I thought was to save every seedling of farmers. Luckily, all the seedlings were fine," she said.
As a scientific and technical worker in agriculture, Wang studies intensively and has great tenacity and strength, said those around her.
"If there is a question which I cannot figure out in a day, I will not eat and sleep well. I must solve it," she said.
Wang said pepper breeding was a kind of work which consumes time and needs carefulness.
"It takes at least eight years to successfully cultivate a variety. Sometimes, the time is even longer – 10 years or more," she added.
Wang has taken part in the cultivation of 16 pepper varieties so far, which have been promoted in 14 provinces and autonomous regions across the country and generated an additional economic benefits of over 2.7 billion yuan (U.S.$ 408,762,660).
Wang Xiuzhi gives technical guidance to farmers in a greenhouse. [People's Daily]
(Source: People's Daily/Translated and edited by Women of China)