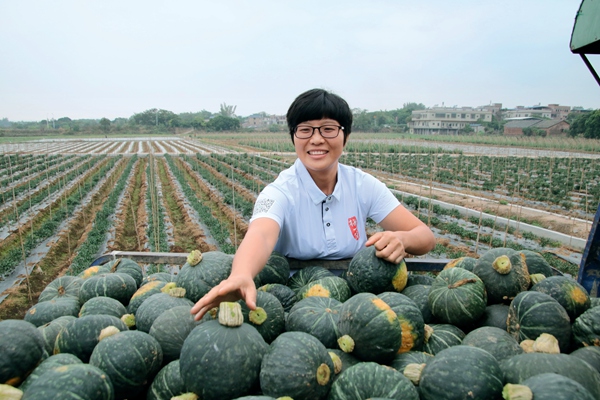 Zhang Xuelian [For Women of China]
Zhang Xuelian quit her stable job in Guangzhou, South China's Guangdong Province, five years ago to return to her hometown, Yuanqing Village, in Luogang Town, Xingning, also in Guangdong. She later established a team, composed mainly of young people who had returned to their hometown, the village, to fulfill their dreams.
Given her efforts and achievements in leading and helping villagers shake off poverty, Zhang was elected, by Guangdong Women's Federation, a provincial March 8th Red-banner Holder in March 2018. She is also a deputy to the 13th Guangdong Provincial People's Congress and a member of the 12th standing committee and executive committee of Guangdong Women's Federation. Zhang says the honorable title of "March 8th Red-banner Holder" is the best reward for her hard work over the years. Her biggest dream is to encourage more young people to return to their hometowns and help local residents escape poverty.
Fascinated by Farmland
After she graduated from Zhongkai University of Agriculture and Engineering, in 2006, Zhang found a job in a big company in Guangzhou. She earned a decent income. She bought a house and a car and she lived a comfortable life. However, every time Zhang returned to her hometown, Yuanqing, to visit her relatives, she felt sad when she saw the farmland was being wasted, and that most of the villagers were living tough lives.
"My birthplace was in Yuanqing. When I was a child, every household had farm work to do. The village looked beautiful in the harvest season," Zhang recalled. She decided to return to her village and help her hometown regain its beautiful scenery.
In 2014, Zhang returned to Yuanqing with two of her former schoolmates, who were good at marketing and technological development. She rented more than 100 mu (6.67 hectares) of deserted farmland, which she ploughed and on which she grew chilies and black- skinned winter melons. She hired local villagers to take care of the farmland. "At that time, transportation in my hometown was quite poor. We had to use shoulder poles to carry the tools we needed for ploughing the farmland. Sometimes, we walked several kilometers with the heavy tools," Zhang said.
Zhang encountered great difficulty during the earliest months of the initiative. "After I spent most of my money ploughing and fertilizing the once-wasted farmland, I had little money left to buy irrigation equipment. Luckily, I received timely support from the women's federation of Xingning. With the women's federation' s help, I applied for small loans with subsidies, and I used the money to buy the equipment I was in dire need of." Zhang said the women's federation enabled her to cope with the great difficulty, and to continue her business.
Unite College Students' Efforts
Zhang established Yuanqing Planting Cooperative in June 2014. She grew mainly chilies and winter melons during the first year of the cooperative. In the following year, she grew several other types of vegetables, such as pumpkins and corn. Near the end of 2015, she registered her own brand, Mei Yi Ke, and she started to help villagers sell their crops. Zhang combined offline sales with e-commerce platforms, and she used both channels to promote agricultural products from her hometown to big cities across China.
In addition to running her business, Zhang has maintained close contact with Zhongkai University of Agriculture and Engineering. She has signed a cooperative agreement with the university, which has provided technological support to Zhang's company, to help it produce healthy and environmentally friendly agricultural products. Meanwhile, Zhang has provided internships and jobs to encourage college students to come to her hometown and take part in the construction of Yuanqing. Zhang's team currently has 51 members, all of whom are young people who have decided to start a business in rural areas. Zhang says she hopes to unite more college students' efforts to build her hometown.
Xu Jingping, a graduate who majored in agricultural machinery, is a member of Zhang's team. "Xuelian tried several times to persuade me to return to our hometown and start a business with her. Eventually, I agreed. I soon realized there were a lot of things to learn while working on farm. I learned many practical skills from our technicians," he recalled. Currently, Xu is in charge of planting seedlings and the overall administration of the farm work.
Give Back to Villagers
During the past five years, Zhang has never forgotten her initial goals: To give back to villagers, and to help them shake off poverty. She has taken different measures to help villagers who have different needs. For example, she has encouraged villagers, who have their own ideas and who are brave enough to try, to contract land, grow crops and earn a living. Zhang's cooperative has paid some basic expenses, including the money for seedlings and packaging, for those villagers. For impoverished households, with no idea about how to manage a farm business, Zhang has provided training and jobs to help the villagers earn stable incomes.
Now, more than 100 villagers work on the three planting bases operated by Zhang's company. The young woman is helping more and more residents escape poverty and play their roles in the construction of a beautiful and prosperous hometown.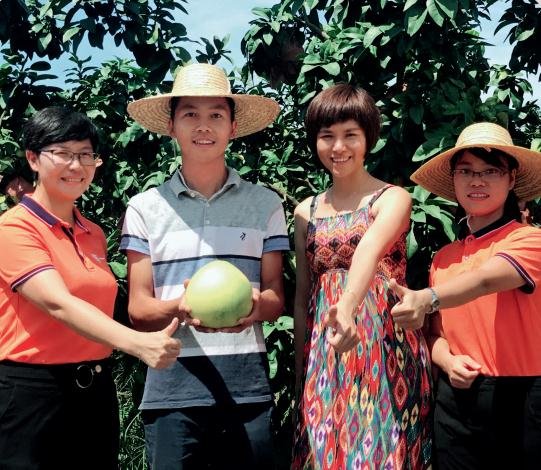 Zhang and villagers [Women of China]
(Women of China)