Meng Xiaomei poses for a photo. [For Women of China]
Meng Xiaomei, born in 1973, is a teacher at Beigeng Township Central Primary School, in a remote mountainous area in Xincheng, a county in Laibin, a city in southwestern China's Guangxi Zhuang Autonomous Region. Meng has helped many impoverished students by paying their tuition fees and living expenses during the past 20-plus years. She was honored as a National March 8th Red-banner Holder in 2018.
Early Years
A student in Meng's class did not return to school after the fall semester began in 1996. She climbed several hills on her way to the student's home, during a weekend, and she found out the student had dropped out of school because the student had not been able to pay the tuition fee. So, she borrowed money from her relatives and colleagues, and she helped the student scrape the tuition fee together. "I once dropped out of school because of poverty. I was able to continue studying with the help of the local government and the villagers. I thought of my past when I saw the child's face. I wanted to do something for my student," says Meng.
Lan Fenghai, a teacher who had just graduated from a normal school, began teaching Meng in 1989, when Meng was a middle school student in Grade Two. Meng liked Lan and her lessons. She decided to study hard, as she hoped to be enrolled by a normal school and become a teacher. However, her mother was diagnosed with breast cancer the next year, which added to the family's misfortunes.
An illness had left Meng's grandmother blind at a young age. Meng's father was seriously injured while he was cutting firewood on a mountain. Meng dropped out of school after she completed middle school. She became a substitute teacher at Neiren Primary School. At that time, she worked at the primary school in the daytime, and she did farm work and studied on her own at night. Finally, she passed the college-entrance exam. The villagers helped her raise money to pay the tuition. She graduated from school in 1995, and she became a primary school teacher in the township.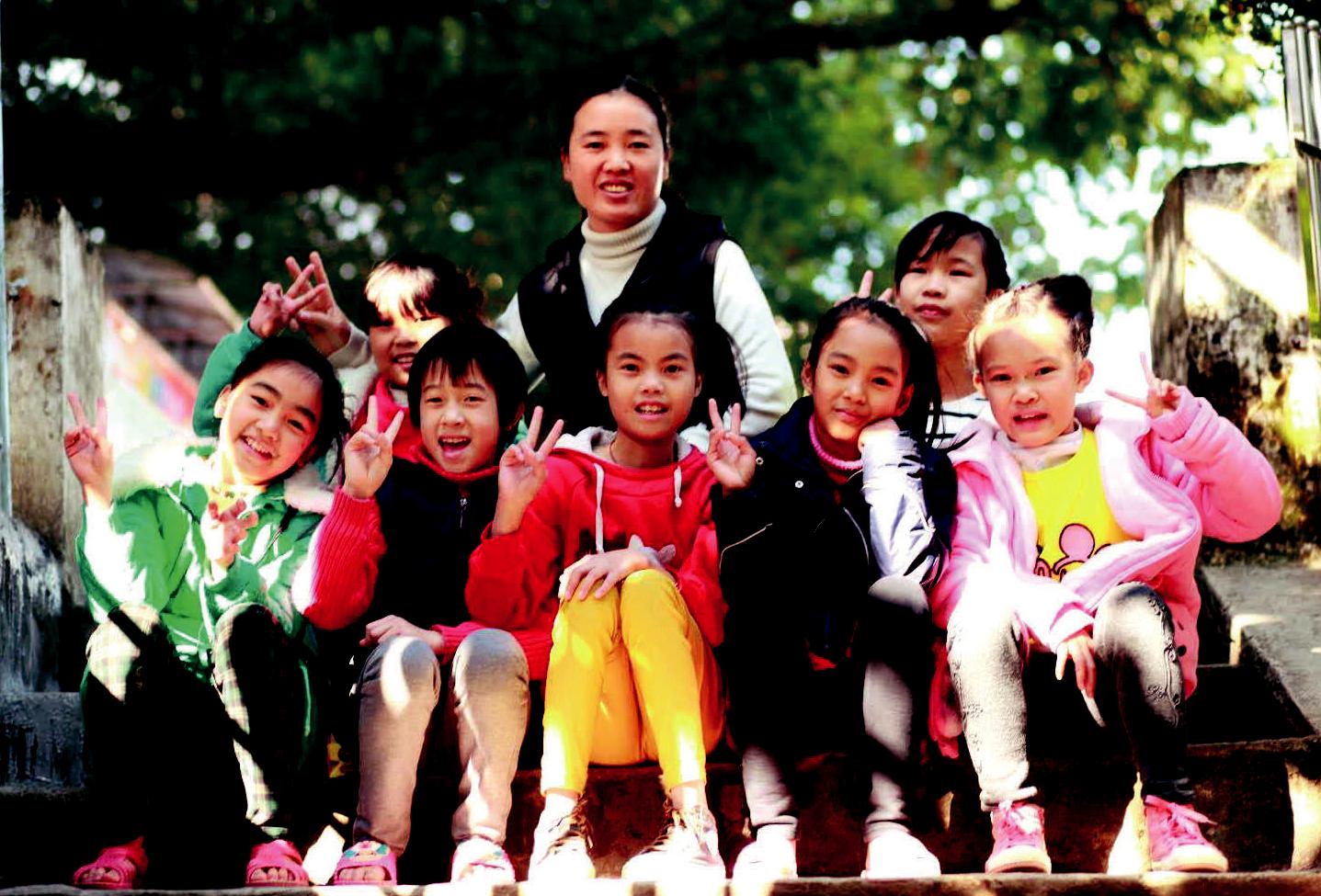 Meng poses for a photo with her students. [For Women of China]
Dedicating Herself
Several years ago, many of the students in her class lived with their grandparents, as their parents had migrated to cities for work. Meng visited her students, to learn about the conditions of their families, during weekends and summer and winter vacations. She tried her best to help the students from impoverished families solve their problems. She took photos of their homes, and she established a file that recorded the students from impoverished families. She visited local entrepreneurs, and she motivated them to assist the students. She also contacted charity organizations to ask for their help.
Representatives of a charity visited the primary school in December 2010. Then, she helped build a bridge between charity organizations and the impoverished children in Beigeng Township, to prevent the local children from quitting school. She led some volunteers, from Maitian Education Foundation, in visits to the families of 30 impoverished students, and in visits to 37 substitute teachers, in May 2011. With the help of the foundation, the students received up to 600 yuan (US $90) per year until they graduated from university, and the substitute teachers received up to 100 yuan (US $15) per month.
Meng in 2013 helped establish a station for assisting the children whose parents were impoverished migrant workers in Beigeng. The station provides 100 yuan per month to impoverished children until they graduate from university. She also helped establish such stations in other municipalities in the county. To date, she has helped raise more than 2 million yuan (US $298,507) to assist more than 500 impoverished students. Now, poverty no longer prevents children in the township from attending school.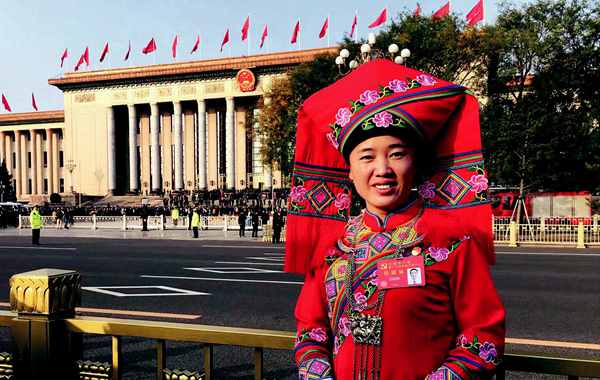 Meng Xiaomei poses for a photo.[For Women of China]
Warm Home for Students
Fan Qiuliang, a student at Neiren Primary school, was elected a National Good Pupil in the New Era in January 2019. Fan's mother passed away when she was 2. Her father is confined to bed by sickness, and her elderly grandparents are weak. Every day, she gets up early in the morning. She makes a fire and cooks various dishes. Then, she feeds the chickens and pigs. She walks for an hour to school after she completes the household chores. She takes care of her father after school. She picks up and sells honeysuckle for money on weekends. Meng helped her receive donations, after she learned about the conditions of Fan's family.
"I hope to become a teacher in the future. Teachers are smart, and they know much … They can teach many students. I also want to become a loving teacher, just like Teacher Meng, to help more students in trouble," says Fan.
Every year, many of Meng's former students visit her home during the Spring Festival. Some of them once accepted her assistance. Some are now attending universities in other cities. Some have already graduated and have found good jobs. They often recall the past, and they often talk about the outer world. For her students, the home of Teacher Meng is the beginning of their bright lives, and their common "warm home."
"In the future, I hope more loving people will participate … Our society needs more positive energy. I wish my children will do their best to become useful people in society," says Meng.
Meng Xiaomei is at work. [For Women of China]
(Women of China)