Shandong Women's Federation convenes a session on December 1 in Jinan City to convey the remarks given by President Xi Jinping and make arrangements for the implementation of the spirit of the 12th NWC. [sdwomen.org.cn]
Shandong Women's Federation (SWF)convened a session on December 1 in Jinan City, in East China's Shandong Province, to convey the remarks given by President Xi Jinping and make arrangements for the implementation of the spirit of the 12th National Women's Congress (NWC).
Zhang Hui, president and secretary of the Leading Party Group of SWF, attended the event and delivered a speech.
Zhang explained the important remarks that Xi recently made when he met the new leadership of the All-China Women's Federation and put forward requirements for women's federations at all levels to study and implement the spirit of the address.
In his speech, Xi outlined an overall plan for the development of women's affairs in the new era. Xi highlighted the requirements of the Central Committee of the Communist Party of China (CPC) on women's work and declared the goals and responsibilities of women in terms of future work.
All staff of federations must carefully study the speech, implement its spirit and grasp its core meaning, Zhang said.
She added that women's federations should also encourage more females to contribute their efforts to promoting the construction of the modernized powerful province.
She said women's federations should carry out a series of activities on the theme of "Following the Party's Leadership" to strengthen the ideological, political, value and spiritual guidance of women, and closely rally women from all sectors across the country around the CPC Central Committee with Xi Jinping at the core.
Federations should launch activities themed around "Women Making Achievements in the New Era" to encourage women make contributions in the social and economic development and should pay attention to serving women, especially those who are impoverished, through series activities, said she.
Officials should promote the implementation of the basic state policy of gender equality, protect women's legal rights and interests, provide women with marriage and family counseling services, and carry out more public welfare programs on women and children's development, Zhang added.
Federations should also carry out the Mothers' Quality Improvement project and the Looking for the Most Beautiful Families campaign to develop positive family traditions and further advocate core socialist values.
Furthermore, Zhang said women's federations should deepen reform, improve services and foster competent staff for relevant work. Federations should strengthen their political consciousness, become more advanced, and better represent the people so as to promote their development, said Zhang.
Others such as officials from SWF, presidents of municipal women's federations, directors of the working committees on women of departments directly under the provincial Party committee also attended the event and shared their experiences.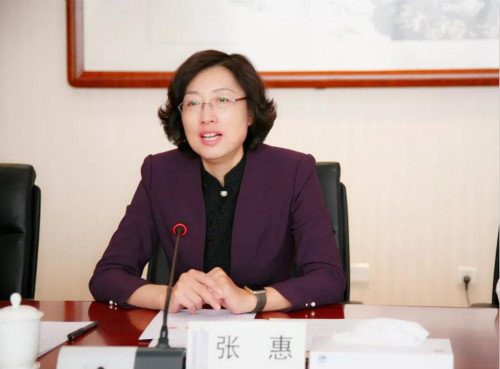 Zhang Hui, president and secretary of the Leading Party Group of SWF, delivers a speech at the event. [sdwomen.org.cn]
(Source: sdwomen.org.cn / Translated and edited by Women of China)