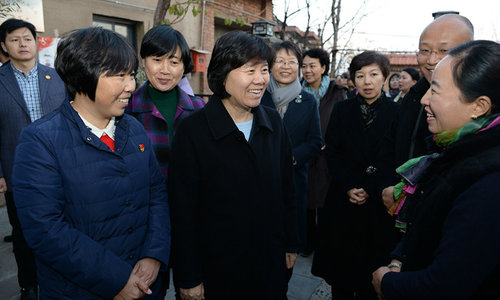 ACWF President Shen Yueyue (C) holds a research tour in central China's Henan Province from November 20-23. [China Women's News]
Shen Yueyue, president of the All-China Women's Federation (ACWF), held a research tour in central China's Henan Province from November 20-23 to speak with local women about the spirit of President Xi Jinping's remarks when he met the new leadership of the federation in early November.
Xi, also general-secretary of the Central Committee of the Communist Party of China (CPC) and chairman of the Central Military Commission, explained on November 2 the importance of upholding the socialist path with Chinese characteristics for women's development and mobilizing women to make achievements.
The four-day trip brought Shen to the cities of Zhengzhou, Zhumadian and Anyang, where she also learned more about local women's lives and the efforts undertaken by government departments to lift them out of poverty. She encouraged them to be loyal to the Party and make higher achievements in the new era.
Shen said women's federations should better fulfill their missions in mobilizing and rallying women to closely unite around the Party through feasible measures. At the village of Chenlaozhuang in Xiping County, Zhumadian, she found the local federation had created its own working model to disseminate the Party's policies, nurture fine social conventions, conduct the building of model courtyards, and organize female villagers to provide volunteer services.
During a visit to the village of Miaohuang in Linzhou, Anyang, Shen commended local women for their engagement in the development of rural tourism.
Hao Xinying, a woman villager, said she owes much to President Xi and the CPC Central Committee for their leadership to make her village becoming more beautiful and help them lead a promising life.
Speaking with people at the village of Guosi in Pingyu County, Zhumadian, Shen urged local women's federations to intensify their efforts in the assistance of women and encourage females to make improvements in their lives with personal efforts.
Disadvantaged women in Guosi have become employed by nearby businesses.
In addition, Shen also talked with parents and officials of grassroots women's federations about their difficulties and special needs concerning family education when she visited women and children's activity centers in Pingyu and the Guancheng District of Zhengzhou.
"Parents are expected to teach their children to maintain good ideology, ethics and habits. Officials from women's federations should respond to parents' needs in family education and set about major tasks in helping teenagers become dominant force in shouldering national rejuvenation," Shen said.
Shen gave high recognition to officials of women's federations at all levels in the province on their work during a meeting in Anyang.
She emphasized that Xi's remarks have provided women's federations with fundamental rules in their work on women's development in the new era and that the federations should prioritize their study and implementation of the spirit of Xi's keynote address.
More specifically, women's federations should strengthen their efforts in studying and conveying the spirit of Xi's remarks, grasp the essence of his speech, strengthen the leadership in ideological and political work, mobilize women to closely follow the call of the Party, and lead them to strive for higher achievements in the new era.
Shen also met with Wang Guosheng, secretary of Henan Provincial Committee of the CPC, and Chen Run'er, governor of Henan Provincial People's Government. They exchanged personal views on the learning and implementation of the spirit of Xi's remarks and the promotion of the work on women's development.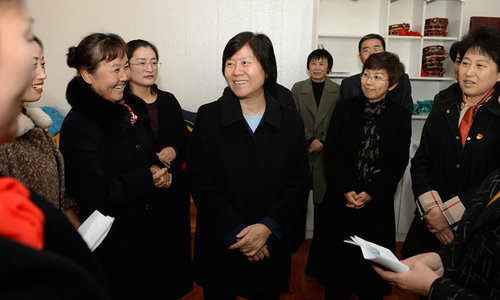 Shen Yueyue (C) speaks with locals in central China's Henan Province. [China Women's News]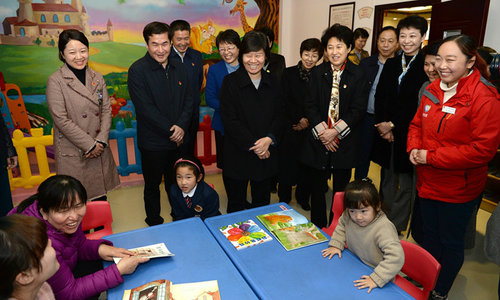 Shen Yueyue (C) visits a children's activity center in central China's Henan Province. [China Women's News]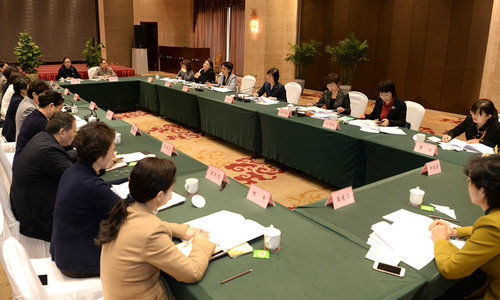 Shen Yueyue holds a meeting with officials of local women's federations at all levels in central China's Henan Province. [China Women's News]
(Source: China Women's News / Translated and edited by Women of China)